Futsal is a fast-paced, slightly downsized version of soccer. The popular game is one of a handful of "small side" sports offered by the National Athletic Village, or NAV for short, for the grown-up crowd.
"There are so many great youth organizations in this area, but there's not a lot for adults to do," said NAV founder Leigh Bortins. "We decided to focus our programming on adults during the winter and kids in the summer."
In recent years, niche fitness gyms have proliferated across the area, but when it comes to futsal or dodgeball team-oriented-type-of-sports the options are a bit spotty.
Bortins said small sided sports leagues are composed of 10-player teams. Fewer players on the field has unique advantages. Substitutes are usually not required if you can't make it to a game, and each player sees more action during a match.
The NAV runs eight-week sessions for futsal, basketball, dodgeball, beach soccer and more. The new season begins the first week of January, register by Jan. 1 to participate. Most games are scheduled between 6-10 p.m. and players can sign up as a free agent ($60 per person) and gather their own team of 10 ($550).
Tuesday nights are set aside for corporate leagues, other league teams will usually play on Thursdays.
For those who prefer to drink more than sweat, yet still like to keep score, the facility also offers eight-week sessions in "bar sports" such as darts, corn hole, flip cup, and spear throwing.
"We are not a bar, but we do serve beer," Bortins said.
In addition, Park After Dark activities will begin in January, with individual/couple/family events such as moonlight hikes, scavenger hunts, flashlight tag, and camp games. Thursdays is Date Night with coed activities, Fridays is Student Night for teens (14-20 years), and Saturdays are set aside as Family Night, all from 6-10 p.m. In between rounds, participants can hang out and enjoy s'mores and beverages around the outdoor fire pit.
An off-the-beaten-path industrial park is not exactly where you'd expect to find a gym that serves up futsal and beer, but Bortins is quick to point out that the NAV isn't just any gym.
The facility got its start three years ago as a creative reimagining of the former Pace warehouse.
The primary building has been renovated as the headquarters for Classical Conversations, a classical Christian homeschool curriculum business founded by Bortins in the late 1990s.
In 2012, she stepped away from the leadership of the program and her very first student, her oldest son Robert, became the CEO. Today, Classical Conversations serves approximately 117,000 students worldwide.
But there was plenty more space in the Southern Pines Corporate Park. The family devoted the rest of the property for the NAV.
"People think our gym is small but it's not," Bortins said. "We have a 3,000-square-foot fitness center that spills out to 70 acres of outdoor fields, a running trail, our beach, and open play areas."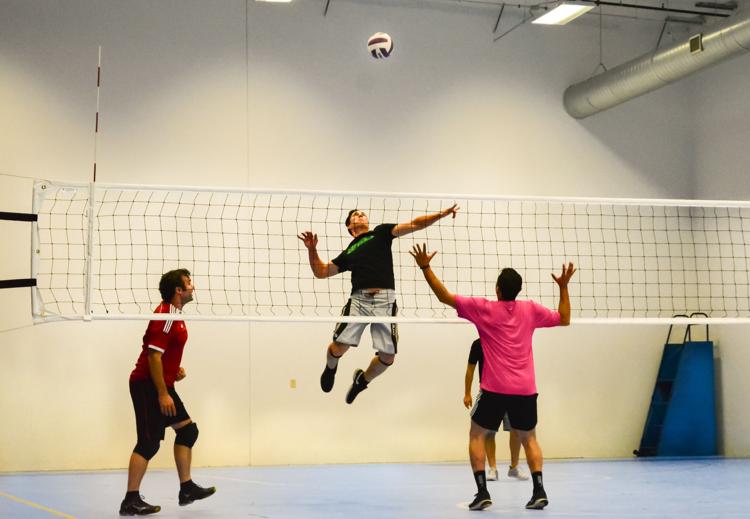 The indoor gym areas include a spacious, cushioned court for futsal and other team sports, a concession area and children's party room, and a performance gym for individual fitness and exercise classes.
During the day, the NAV offers year-round fitness programs for moms and toddlers, seniors, a lunch break blast, and physical education classes for homeschoolers.
Outdoor play areas include marked fields, a beach volleyball court, and a two-mile trail for running and biking that includes more than 20 Spartan style obstacles.
More recently the Bortins added a "beer garden" inspired outdoor patio and firepit where teams and spectators can gather next to the revamped concession area.
And while the NAV is a private, athlete-funded facility, they've added an outdoor sandy "beach" with volleyball and corn hole next to a beer garden-inspired patio that are open to the public for no charge.
The NAV also hosts non-profit fundraising events, allowing hundreds to participate in everything from 5k races to bocce ball, and private rentals are available for church groups, reunions and birthday parties.
"We have an incredible staff of excited 20-somethings who run our programs," Bortins said.
James MacFarland oversees the facility's adult sports leagues, Kristen Seiler is the fitness director, and Yvonne Berry is the NAV's concession and party director.
"During the winter months when it gets dark at 5 p.m., it's harder for people to go outside and play," MacFarland said. "Here we have indoor and outdoor courts. We also feel the weekend begins on Thursday so a lot of our activities start then and run through the weekend."
Prices vary by activity. A fitness gym and trail membership runs $25 a month or $50 per family with a year commitment. Park After Dark runs $10 a person and $25 max for a family.
To join the NAV's adult small side sports leagues, you can round up a team of 10 players for $550, or register as a free agent for $60. Corporate teams play Tuesday nights.