A team from Carthage-based Innovative Agricultural Technologies will travel to Texas this weekend for a national Shark Tank-style competition. As you might expect from a Moore County group, pine straw is at the heart of it.
The Farm Bureau Ag Innovation Challenge is geared toward U.S. food and agriculture startup businesses. Moore County native Matthew Parker said his group will present the Pine Bine, a machine that removes sticks and pinecones from longleaf pine straw, thus eliminating one of the more labor-intensive steps in commercial production.
The five-man team met while attending N.C. State's College of Engineering. Parker and his classmates Ben Cauthen, Alex Greeson, Ben Cranfill, and Will Marsh worked together on a senior capstone project that would serve the needs of North Carolina's pine needle industry.
Since graduation, they have signed a contract with a manufacturer, licensing their patent to produce what they anticipate will be a more streamlined version of the Pine Bine that can combine existing technologies in the marketplace.
"This is the big leagues. We have competed against other senior design teams, but this time we are competing against other start-up companies," said Parker. "They will be looking at the design and also whether the machine is practical.
"We are continuing to refine the Pine Bine with the goal to create an integrated piece of equipment that can pay for itself in under one season."
The American Farm Bureau Federation, in partnership with Farm Credit, awards $145,000 in startup funds to entrepreneurs who compete throughout the year, culminating at a live pitch competition at the AFBF Annual Convention. The live-pitch competition will be judged by professionals across the agricultural industry, including professors from both Cornell University and Texas A&M. Startup funds for the Ag Innovation Challenge are provided by sponsors such as Bayer Crop Science, Country Financial, Farm Bureau Bank, Farm Bureau Financial Services, Farm Credit, and John Deere.
In addition to the live-pitch portion of the competition, Innovative Agricultural Technologies will also compete for the People's Choice Award. You can vote by downloading the "Farm Bureau Events" app from the Apple App Store or Google Play store and place your vote between 8 a.m. on Saturday, Jan. 18, and 8 p.m. on Sunday, Jan. 19. You can also follow their progress on the Innovative Agricultural Technologies' Facebook page or visit www.PineBine.com.
Pine needles for landscaping are a big business across the Southeastern U.S. However, one of the industry's biggest challenges is its reliance on hand labor. In addition, pine straw producers are also restricted in the kinds of foreign workers they can hire, which limits the labor pool significantly.
"It's hard to find people who want to go into the woods and separate pine straw from sticks and pine cones to get the best quality pine straw," said Parker, who is currently a second-year law student at Campbell University's Norman Adrian Wiggins School of Law in Raleigh.
Parker is attuned to rural farming needs. He grew up on his family's farm and was homeschooled by his mother. They were active in the Christian Home Educators of the Sandhills (CHES) group. Parker went on to attend Sandhills Community College before transferring to N.C. State.
As a senior engineering student, he said the professors handed out a list of potential capstone project ideas, but he decided to look closer to home for inspiration.
"We reached out to the Pine Needles Producers Association because I knew a few pine straw farmers in the area," Parker said.
The team's goal was to create a mechanized system for cleaning pine straw. N.C. State provided $1,000. Working with pine straw farmer Terry Bryant and other producers/members of the NCPNP association, the students were able to collect more than $14,000 in in-kind and other donations.
"That is what allowed us to go forth with the project. All they said is they wanted us to pursue it," he said.
By graduation, the team had developed a patent-pending machine that Parker predicts could cut the labor costs associated with pine straw production by up to 80 percent. It could also increase the number of harvestable acres of longleaf pine straw, not just in North Carolina, but also across the entire southeastern United States.
In 2018, the Innovative Agricultural Technologies team won first place in the AGCO student design competition at the American Society of Biological and Agricultural Engineers (ASABE) Annual International Meeting in Detroit. That established the Pine Bine as the best agriculture-related senior design project in the nation.
Shortly after graduation, the team formed Innovative Agricultural Technologies, LLC and partnered with a small-scale rural equipment manufacturer in North Carolina. The team plans to release the Pine Bine to the general public in the next several months.
Parker explained that Innovative Agricultural Technologies' goal is that the Pine Bine will "revolutionize the pine straw industry and make raising longleaf pine trees profitable again."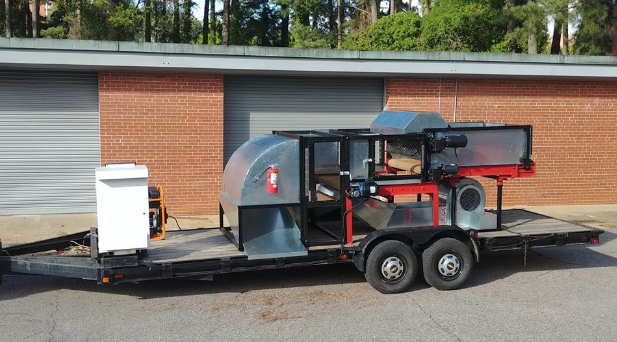 Importantly, he believes the Pine Bine also has the potential to yield environmental benefits in addition to increased profits for pine straw producers and landowners.
"Because of their unique growth habit, longleaf pine trees create an ecosystem found nowhere else on earth," Parker said.
Loblolly pines, which do not produce the same ecological benefits as longleaf pines, have largely overtaken the lumber market throughout the Southeast because loblolly pines grow at twice the rate of longleaf pines, he noted.
"If successful, the Pine Bine is positioned to help reverse this centuries-old trend of declining longleaf pine acreage throughout the Southeast simply by doing its part to harness market forces rather than resorting to cumbersome state regulation. People will naturally want to protect longleaf pine ecosystems once it becomes more profitable to do so."
For more information about Innovative Agricultural Technologies, LLC or to ask about purchasing a Pine Bine, contact Matthew Parker at (910) 639-8115 or Customer-Support@pinebine.com.