A viral Facebook post about healthcare workers repurposing plastic toy monkeys to protect their sore ears kicked off a wild week for a local business owner.
Lisa Bordelon said it was also an answered prayer.
"Like everyone, I have watched the news about the coronavirus and wanted to do something to help," she said. "I never thought I'd have this kind of opportunity."
From her home workshop in Jackson Springs, Bordelon operates an online retail store called Sun Coast Sugar Gliders where she sells food, treats, toys and accessories for these small, exotic animals that can be kept as pets.
Bordelon got into the sugar glider business in 1999, after wrapping up a career in finance in healthcare and technology startups.
"According to my mother, I used to have a real job. She would lament to friends that her daughter quit the rat race to raise flying rats," she laughed.
An Australian marsupial, sugar gliders have a life span similar to a dog, are social animals that need to live in pairs, and will bond with their owners.
Though Bordelon cautions that sugar gliders' personalities are a bit more like cats.
"The bonding is on their terms."
She keeps the classic monkey barrel game as a regular staple in her Sun Coast inventory. The plastic toys are perfectly sized for sugar gliders to toss, carry, or even hide inside the fabric sleeping pouches that Bordelon's team sews by hand for customers.
But she said she had no idea what was happening when the orders began flying in one Saturday morning in mid-April.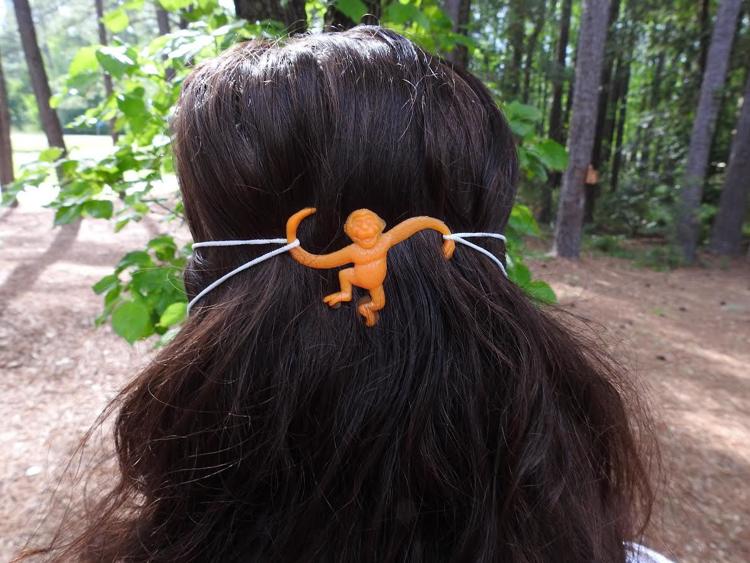 "I theorized that maybe a famous person had come up with a drinking game using the monkeys and had shared it online," she said, before learning from her niece about the viral Facebook post.
In a week's time she sold out of her entire two-year inventory of toy monkeys.
"It was so intense. I was trying to get things out as quickly as I could."
Bordelon credits West End Postmaster Justin Thompson and his staff for their assistance. On several occasions last week, she arrived at the post office door with her car overflowing with boxes, packages and envelopes.
"We try to be as helpful as we can," Thompson said. "For a lot of our businesses that drop off packages, their business has picked up a lot."
One day alone, Bordelon brought in 180 packages to be scanned and mailed.
"I figured out that I was able to bring comfort to 30,000 ears. That tickled me," she said. "Every package was packed with love."