On less than a day's notice, the Dunkin' store in Cameron whipped up a batch of 3,000 doughnuts last weekend to hand out to soldiers deploying from Fort Bragg.
"They were very much an appreciated treat," said Ken Baer of Pinehurst Donuts, a franchisee that operates eight Dunkin' restaurants in the Sandhills, including locations in Cumberland, Harnett, Lee and Moore counties.
Baer said he and his business partner, Pat Corso, are big supporters of the USO. When Brian Knight, the Fort Bragg USO operations director asked if they would donate 3,000 doughnuts for the troops, Baer didn't hesitate to say yes.
"My only concern is we don't have that many doughnuts just sitting around," he laughed.
What followed was a flurry of telephone calls. Thanks to help from the Dunkin' central bakery in Clayton, and extra baking staff that Baer brought into the Cameron store, they were able to meet the USO's request.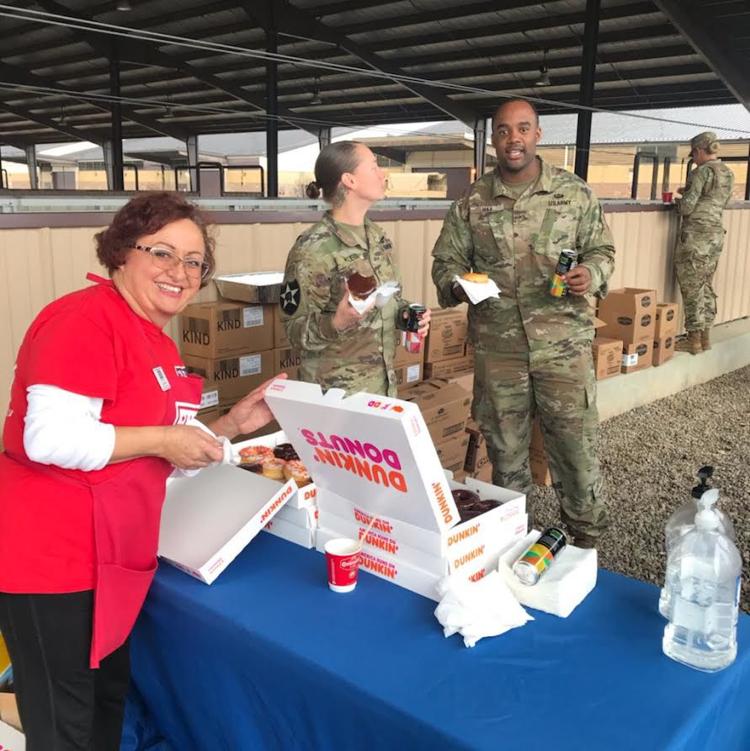 "I met everyone at the store and we started boxing up doughnuts," Baer said.
The next morning they delivered the first 1,000 doughnuts to Pope Air Field, and then continued to stage all weekend, delivering another 1,000 on Sunday and repeating the feat again on Monday.
"Our crew was very proud of that," Baer said. "We needed to make 85 dozen boxes of doughnuts and that is a lot."
Armed guards and barbed wire surrounded the staging area. Volunteers were there serving up refreshments and drinks from Saturday at 7 a.m. all the way through Monday evening.
"Our goal was to have fresh doughnuts available to them throughout the weekend," said Baer. "It was amazing."