How do you like them apples? James Creek Cider House, the brainchild of Dave and Ann Marie Thornton of Cameron, is one of of only 11 recommended American hard ciders in Ciderology, a new definitive guide authored by Gabe Cook.
His book reflects an international view of the growing cider industry from the perspective of the ancient tradition that was perfected in the west of England.
"Ours is very traditional cider. We are growing heirloom apples that are specifically for cider making, and these old apples tend to have a lot more tannins," said Ann Marie. "So using old time varieties with deep flavor, you get quite a lovely cider."
"That is the tradition that means so much to Gabe," she added.
The Thorntons first planted about 50 vintage apple trees in the winter of 2009, and now care for over 75 varieties, including Southern favorites like Kinnaird's choice, American golden russet, red Limbertwig, Hewe's crab, blacktwig, Stayman and Yates.
Once the apples are harvested from their own orchard or locally sourced from other mostly North Carolina growers, they are crushed, pressing out the juice, and then fermented in small batches.
It is the tannins that give wine and cider "its backbone and structure," and since the couple's apple production is limited, they have learned to extract everything they can get out of their crop.
The James Creek brand is a very wine-like cider, refined, dry and with a relatively higher alcohol content. They also produce the Stargazer line, which is a bit more like craft beer. Different flavors are achieved by blending in other ingredients, like hints of peach, ginger and possibly even a sweet potato-flavored batch will soon be in the works.
"Many cider makers in America use whatever apples are available. We do that too, in our other ciders, but not in James Creek."
She said it has been exciting to see the small world of English traditional cider making catching on in popularity. In 2013, the Thorntons traveled there to learn the ancient craft at its source.
"This is where Beatrix Potter lived. There are enormous rabbits there and beautiful countryside. It is just a bucolic setting dedicated to these old traditions, and this is where Gabe grew up."
After attending a cider conference organized by Penn State, the couple had the chance to submit their brand to Cook, and other expert United Kingdom cider-makers, for evaluation.
"We did that and they said, This is wonderful. Absolutely top marks! They were thrilled with it.
"We are just incredibly delighted with the reception of the cider from people who are so respected in the industry. That has been amazing to us."
It was a few months later when they were contacted to send photos for Cook's book.
Thornton credits their success on the "wonderful" apple varieties they've grown and their focus on traditional English cider making.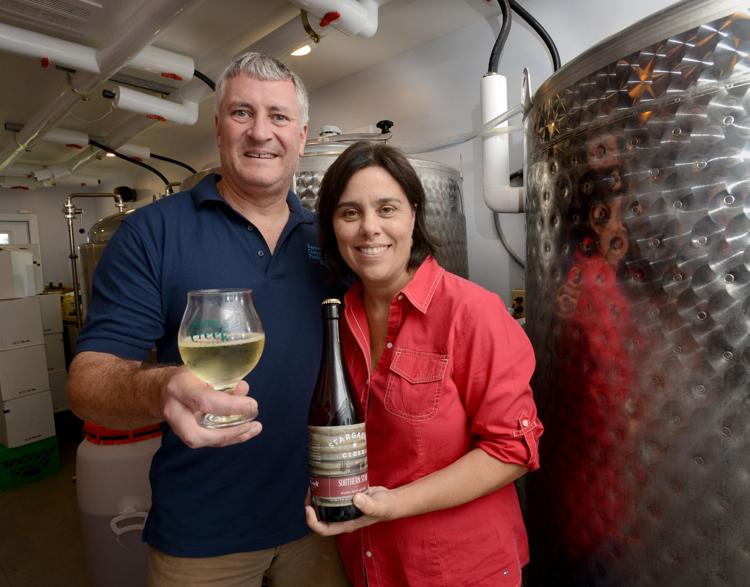 The couple met in college and Dave, a pulmonologist by trade, was brought to the area courtesy of the U.S. Air Force. When he and Ann Marie relocated to North Carolina in 2002, a friend highly recommended they take a look at Southern Pines.
The home they purchased is located on the outer environs of Horse Country, and the rural property included a small, hidden field. The couple thought it would be ideal for an apple orchard.
James Creek Cider House was born in 2016, and their signature product is sold at the Carrboro Farmers' Market on Saturdays, 9 a.m. to noon, through the winter, until April when summer hours resume. In addition, James Creek and Stargazer can be found locally at Ashten's and Chef Warren's, both in Southern Pines, and Drum & Quill in PInehurst, in addition to Triangle Wine, The Wine Cellar and Southern Whey.
This season's newly released ciders from their 2017 harvest are ready just in time for Thanksgiving celebrations.
"Cider has the acidity and flavors to complement traditional Thanksgiving turkey and side dishes beautifully and represents a traditional American drink for this meal."
Their future plans also call for a Tasting Room at the old ice cream stand at 172 U.S. 1 Business in Cameron, expected to open this spring.