There are no craft beers at Moore County's newest watering hole. Instead, you'll find golden-hued ciders lined up neatly in flights at the James Creek Cider House tasting room in Cameron.
For David and Ann Marie Thornton, the recently finished production facility is the culmination of a two-year project to expand their award-winning cider operation.
"The timing has been nicely paced with growth in our orchard," said Ann Marie, of the early November opening of their new tasting room. "Our younger trees are really coming into production."
James Creek Cider House will hold a grand opening this weekend at 172 U.S. 1 Business N., near historic Cameron. Come enjoy cider tastings and apple pressing demonstrations, tour the production facility, plus food trucks and live music are on tap: Friday, Nov. 22, 1-7 p.m. with Meat & Greek food truck; Saturday, Nov. 23, 1-7 p.m. with Pinky Pig food truck; Sunday, Nov. 24 1-5 p.m., with Whiskey Pines entertaining. On Saturday only, fresh cider will be available for purchase for at-home cider making -- bring your own container.
The Thorntons first discovered their mutual love of cider while in college. When the couple relocated to North Carolina following David's military retirement, the home they purchased came with a small field perfect for an orchard.
In the winter of 2009, they planted vintage apple trees. These days the Thorntons care for more than 75 varieties of heirloom apple trees, including Southern favorites like Kinnaird's choice, American golden russet, red Limbertwig, Hewe's crab, blacktwig, Stayman and Yates. A few years ago they purchased additional land in Cameron for a second orchard and the production facility.
Three years ago they founded James Creek Cider House, and their English-style ciders consistently earn awards at national tasting events.
"We are dedicated to local. We ferment with fruit and we sweeten with fruit that is all locally sourced. Either we grow it or it is coming from a farm down the road," said Ann Marie.
In early November, they opened their new tasting room with eight taps to highlight their unique flavors. It is the only place where you can try all of the James Creek Cider House and more whimsical Stargazer varieties. The tasting room also serves wine, charcuterie from Southern Whey, and cheese from West End's Paradox Farm.
"There are a lot of places in town that have our ciders, and they may have one or two available. Here we have everything," said Ann Marie. "You can have anything that we are making."
The tasting room also showcases the local talent of Jake Kerr of Welding Wood, a Southern Pines-based custom wood and metal crafter. He has designed a custom black walnut bar, plus hand-finished table tops and window perches. Outside, a "cider garden" will offer a scenic spot for picnics on warmer days.
Behind the tasting room, the large new warehouse and walk-in coolers are the beating heart of the Thorntons' business.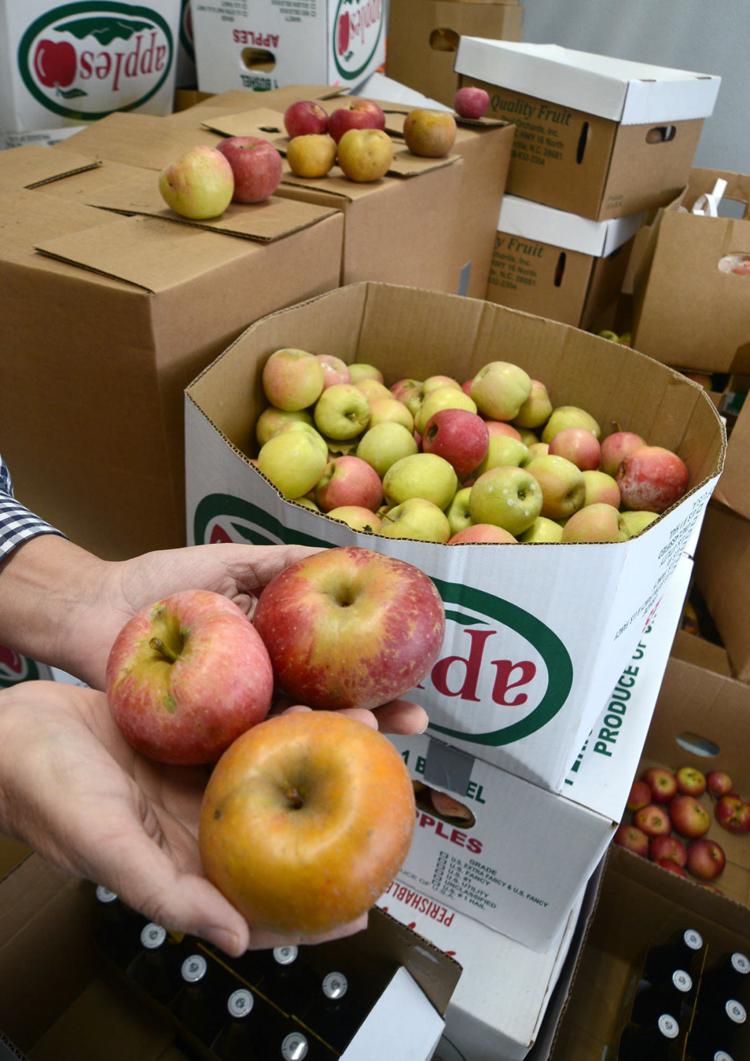 "With this new space and our trees reaching maturity, we expect to double or triple our output over the next five years," said Ann Marie.
This year they've also decided to branch out with more international flair.
First to the tap is a traditional Spanish cider, called Estella Fugaz, that was so arcane to create the couple couldn't find books on the topic written in English. Luckily, David reads fairly well in Spanish, Ann Marie said. The three-step process includes six months of barrel-aging to produce a dry, slightly acidic cider with no carbonation.
"It is a really long project. We wanted to be very authentic," Ann Marie said. "But it was a lot of fun. We like the challenge of doing something different."
Then in May, the Thorntons toured the cider regions of Normandy and met with producers to learn traditional French cider-making techniques as well.
"We have a number of projects we're looking to do as a result of that trip. Normandy has such a beautiful culture," she added.
"What is interesting is cider is a very diverse beverage. We believe in growing cider-specific heirloom apples to see what this place, here in Moore County, can produce."
Find James Creek Cider House at 172 U.S. 1 Business N., near historic Cameron. Regular business hours are Thursdays, 4-7 p.m.; Fridays and Saturdays, 1-7 p.m.; and Sundays, 1-5 p.m.