Finding purpose in life is not always a direct path. Football heroes in high school may find they stumble in college, new business owners often struggle to make ends meet, and, post-military, many veterans find the transition to civilian life challenging.
"There are a lot of organizations locked in on this one four letter word, which is 'PTSD.' But they stop at post-trauma stress and no one is focused on the post-trauma growth portion," said Mason MacDonald, a Southern Pines resident who retired after a 20-year career as an Army ranger-qualified pilot.
Together with his wife Bethanie, a Gold Star spouse who lost her first husband to the war in Afghanistan, they have started a local Impact Junkie meet-up "tribe" in the Sandhills to focus specifically on positive and forward growth for veterans.
Co-founded by Philip Harding, Impact Junkie is a worldwide social networking organization that brings together adventurers, entrepreneurs and investors to solve problems through start-up initiatives.
Upon joining, members connect with people of similar interests and participate in working trips — missions, per se. Rather than offering handouts in developing areas, these so-called "impact junkies" tackle trouble spots from an entrepreneurial approach to create self-sustaining solutions.
In mid-March, Impact Junkie members spent two days traveling with the MacDonalds to meet with military-centric businesses owners and veterans.
"It went really well. Impact Junkie offers this amazing curriculum for developing entrepreneurs. But combining that curricula with post-traumatic growth is something that has not been done," Harding said.
MacDonald said there is absolutely a need and necessity for veterans to find purpose, a fact made clear by the horrifying statistics attached to veteran suicide rates.
"The nice thing about Impact Junkie and the way it operates — it is plug and play for recently retiring soldiers," he said. "You can go out and do a venture trip and do good work and see quantifiable results from that. And it is not exclusive to military."
Harding said the intent is to create opportunities for people to use their "God-given gifts" and skills to solve problems in a community.
"You don't have to go to Nepal to find needs. There are needs right here," he added.
For MacDonald, he rediscovered his own passion during an Impact Junkie work trip to Guatemala last summer.
"Leaving the Army and that sense of purpose I had, that sense of identity, was kind of earth shattering for me. I can't tell you how many times over the last 15 months that I would sit back and think, I just really want to be back in Afghanistan," he said.
As a career soldier deployed overseas, he knew what he was supposed to do, where to go and in what uniform.
"I knew what my rules of engagement were. What my left and right limits looked like...and then all of the sudden I didn't," MacDonald said.
When the opportunity arose to travel to Guatemala with Impact Junkie, he said it felt like he was going on a "little deployment."
"I went down and I had a sense of purpose. I knew what my job was and it absolutely led me to wanting to do more," he said. "I've been all over the world with a round in the chamber and I've seen a lot of ugliness. The thing that I realized in Guatemala was I could also go out and create beauty, while sustaining my family. I could show my daughter that one person can make a difference."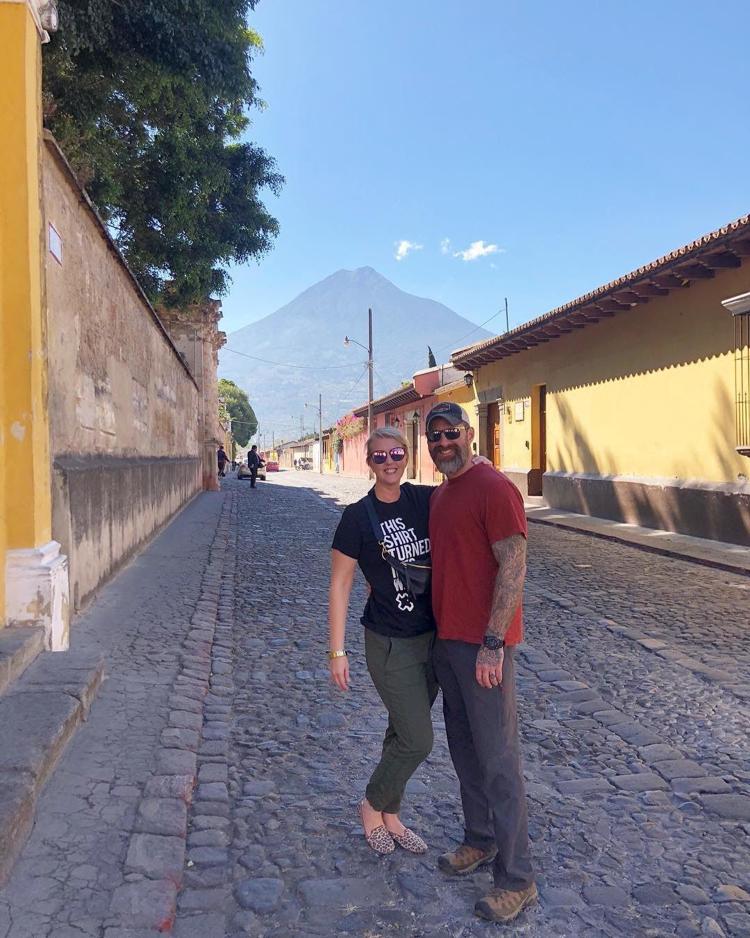 When the MacDonalds returned home, they made plans to invite Harding to meet with the owners of Spartan Blades and R. Riveter in Southern Pines, and Railhouse Brewery in Aberdeen, along with a bunch of other local veterans to hear their stories and their needs.
"Here we have so many of these ex-Special Forces who have that skill, the ability to go in and work with local people. And there is this unique culture of their own with tribal clothing and language with the military acronyms and numbers. It makes sense to bring Impact Junkie to this community," Harding said.
"There is a saying about if you give a man a fish versus teaching him to fish. We say, why stop there?" Harding added. "We want to teach that man how to buy the lake and then sell all his neighbors a fishing license, and then raise a grant to restock the lake."
"If you really love people, you need to help with love. Whether it is a jungle, or in Uzbekistan or post-military, we go where they are. We go with empathy and we try to understand what is the best way to help," he added. "There is so much opportunity and so many people with skills. We want to help them live their best life and to fulfill their purpose."
Harding sees Impact Junkie as a bridge between the stressful trauma that veterans may endure and finding growth and happiness when they return home.
"A lot of groups take people on trips and you go and feel good about yourself. But we want to build something sustainable," said Bethanie MacDonald. "There are different paths to success. It is not linear and that is something important for veterans to hear."
Mason agreed. "In the military we say, 'With purpose, direction and motivation one person can make an impact."