Glass panels in the second floor fitness and yoga studios will offer a birds-eye view of original cisterns — a visual bridge between past and present.
This is just one of the unique architectural features to be showcased at Waterworks, an "adaptive reuse" project underway at the former Southern Pines water treatment plant.
"We want to maintain as much of the historical accuracy as possible," said Michael Bleggi, who is overseeing efforts to transform the property. "My dad has worked so long on this concept. It is exciting to see it come to fruition. This is a special project."
Located across the road from Reservoir Park, on N.C. 22, the defunct water treatment facility was an important part of the town's municipal public works service from 1925 until it was shuttered in the 1980s. Since then it had primarily been used for storage and disposal.
In June 2017, town leaders approved a one-year lease with local developer Andy Bleggi's company, PTAH, LLC. The lease allowed him access to the 28-acre site. A year later, Bleggi purchased it for $421,550, with the provision he establish a business on the property that will create at least 20 full-time jobs paying a minimum of $18.63 an hour.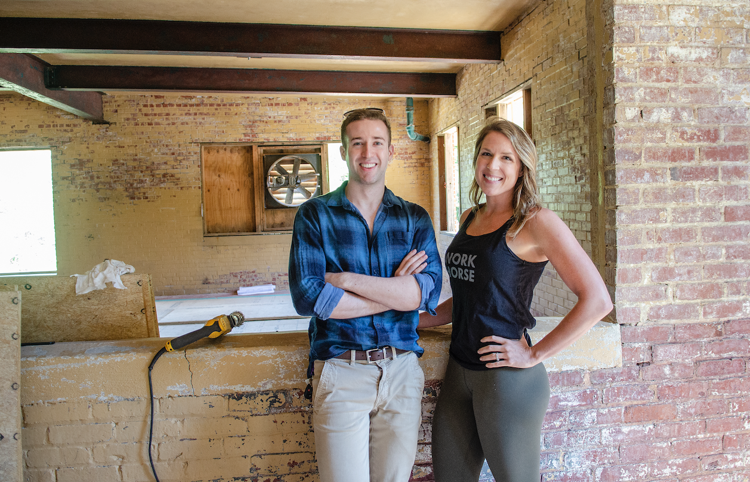 From the beginning, Bleggi envisioned bringing the building back to its historic appearance in 1949. Plans for the "Waterworks" project also call for a large building addition that will house restaurants, a shared parking area, seven new small mixed-use buildings and up to 15 single family homes.
Because the property is in the town's "high-quality watershed," much of the land is environmentally protected from overdevelopment. Waterworks is therefore limited to the southern corner of the tract, retaining approximately 25 acres as open, green space. In addition, new greenway trails proposed on the site will connect to existing trails at Reservoir Park.
Tiffany Fleeman, a longtime fitness instructor, said she had fallen in love with the building at first sight. She learned about Bleggi's interest in the property and introduced herself after he presented his conceptual plans to town leaders last March.
"It is an inspiring historic building. And the space lends itself so well to functionality," Fleeman said.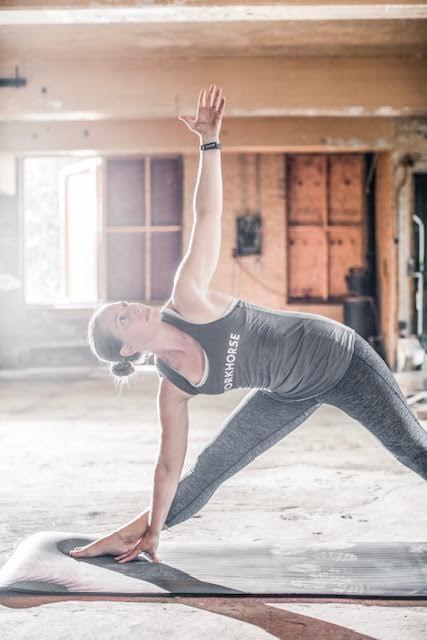 Together, Bleggi and Fleeman came up with a two-story design for her Workhorse Fitness & Yoga studio that is expected to open for business later this summer. A dry bar where customers can get a quick shampoo and blowout is also planned for the second floor space.
Bleggi said the renovation work will maintain the building's industrial feel. The exposed brick, pipes and metal beams, and the black-framed windows will all stay.
"This project is a nod to our changing town. It is the essence of what is going on with the heritage of this property, but also the new influence especially of our military community," he said.
At ground-level will be Workhorse's strength and conditioning gym, while the sunnier upstairs spaces will be dedicated to yoga, an indoor cycling studio, and a massage therapy space.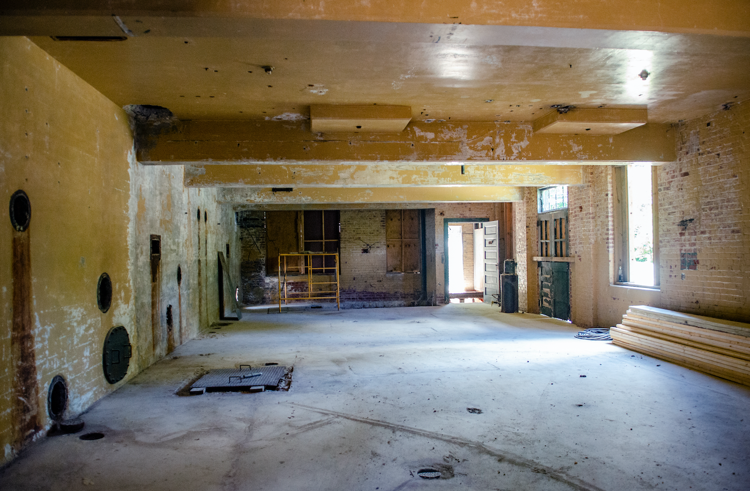 Fleeman has taught privately in the area for the last few years and said opening her own gym has been a long-held dream.
"It is super cool to use two stories," she said. "I have met people who have lived here their whole lives who have never been inside the building. Everyone is excited about this."
Once the historic building is renovated, Bleggi anticipates moving forward with plans to construct the large addition over the next two to four years. The two buildings will be connected through an atrium.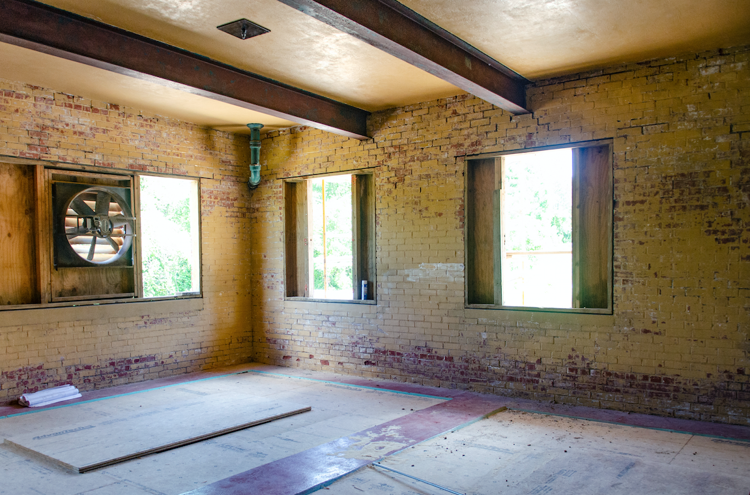 "We are planning on having several restaurants in the addition. It will be different options, not just one," he said. "We are trying to be very thoughtful with the space. If we see there is something needed or could be added, we want to be able to humor that idea."