It's grape season at Olde Carthage Farm, located north of Carthage on U.S. 15-501, where the Godfrey family tend 150 vines of certified organic muscadine grapes.
You can pick them yourself or grab a ready-to-go package. The purple variety is called Nesbitt, the golden variety is called Triumph — somewhat similar to the scuppernong — and the pink variety is called Summit.
Olde Carthage Farm is open 8:30 a.m.-5 p.m., Mondays, Wednesdays, Fridays and Saturdays while the grapes are in season.
Find this and other local farm stands or locally-sourced products fresh-off-the-farm, or a list of restaurants that source from local farms, by downloading the https://visitncfarmstoday.com/ app.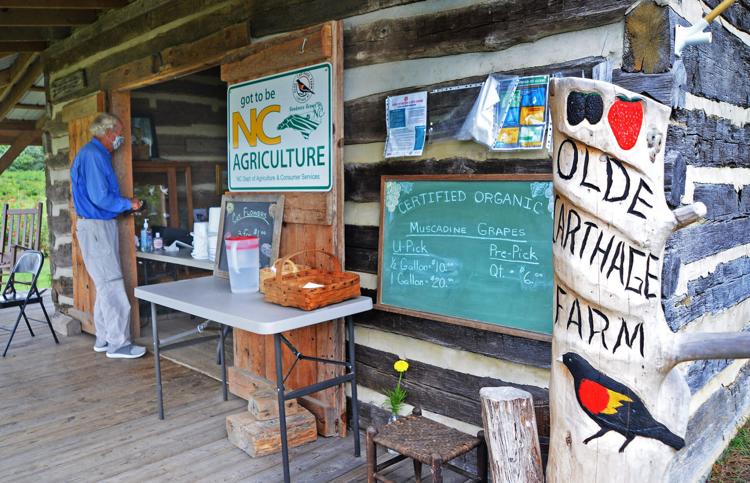 You can also support local growers by visiting:
Moore County Farmers Market at Armory Park in Southern Pines is open year round on Thursday mornings, 9 a.m. to 1 p.m., on Morganton Road.
Sandhills Farmers Market on the Pinehurst Village Green is open Wednesdays, 3 p.m. - 6 p.m., and Saturdays, 10 a.m. - 1 p.m. runs through September.
Saturday Market at Downtown Park in Southern Pines is open 8 a.m. - noon, running weekly through October 30.
Sandhills Farm to Table, a weekly CSA box offering the best in season from more than 30 participating local farms. Home delivery is an option if you are homebound. To subscribe or for more information, call 910-722-1623 or visit https://www.sandhillsfarm2table.com/.