What if your best friends were also your main business competition? In Moore County, this is not an exception but more the rule when it comes to the custom homebuilding market. And the marquee players in this field said they wouldn't want it any other way.
Last Thursday the Moore County Homebuilders Association inducted local builders Danny Adams, Wayne Haddock and Bill Reaves as the inaugural class of the newly created MCHBA Hall of Fame. The owners of Daniel Adams Construction, Pinehurst Homes, and Bill Reaves Construction, respectively, were presented with the Ray Nissen Lifetime Achievement Award for their service to the association, the building industry and the Moore County community.
Nissen served as MCHBA's executive officer and was credited for his leadership development skills and bringing the organization and members into a place of prominence at the state and national levels.
"Ray was the first guy who really understood how to blend the old school and the new school," said Jonathan Potter, a second-generation homebuilder and director of operations of Pinehurst-based Masters Properties. "He was instrumental in teaching people about the importance of quality building, the value of the association and to always keep learning."
Adams, Haddock and Reaves embody that spirit, he said. "They are pillars in our community. They represent the good that is our association."
When the surprise announcement brought all three to the stage together, the bonds of friendship were evident.
"The way they hugged and gave each other a high five, those are the moments you just can't script," Potter said.
"I stand up here with my two best friends," said Reaves, during a short acceptance speech. "If I needed to know something, I could depend on these two guys. I learned this from Ray. You the builders, you the association need to work together. That is what the Moore County Homebuilders Association is all about."
Haddock said receiving the award was a "real honor."
"There is no better competition than friendly competition, and that is what we are," he said.
Construction is the fourth largest economic industry in Moore County, coming in behind healthcare, tourism and retail interests, according to 2017 data collected by the state's Department of Commerce labor and economic division.
The area is home to approximately 225 construction-related businesses that together employ more than 1,400 individuals.
But the biggest economic impact comes from real estate tax revenue.
"We are an anomaly in North Carolina. Most economic developers deal with buildings and manufacturing. We have some, but we are uniquely tax dependent on residential properties," said Pat Corso, executive director of Partners in Progress. "The jobs you create and the quality of that construction is key to our quality of life."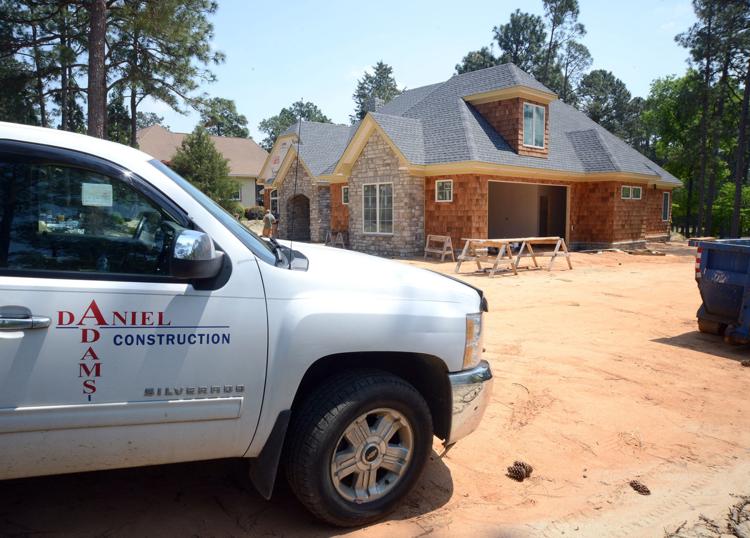 Following the economic slump of the late 2000s, Moore County's housing market has bounced back with a steady upward growth trajectory. The area's reputation for attracting retirees looking for custom homes is intact but, importantly, military buyers began to transform the region as force strength at Fort Bragg increased.
According to the latest figures tracked by the Mid Carolinas Regional Association of Realtors (MCRAR), there are more houses being sold, at faster rates and higher prices year-over-year. In 2015, the average closed price was $267,078 versus $305,454 in 2018. The total number of houses sold in 2015 was 1,299 versus 1,782 last year, and the number of days on the market has decreased from 193 to 157 in 2018.
Attention to detail, quality construction throughout and a touch of uniqueness are three key attributes that judges look for in presenting Builders Awards. The MCHBA annual showcase is the most prestigious home awards competition in this region of the state.
Custom builders compete in categories for the best new homes and remodeling projects in the Sandhills. All homes entered must be located within Moore County.and built within the last two years.
This year's competition attracted more than 40 entries from 20 local companies.
The Best in Show award was presented to Daniel Adams Construction for a custom home in the Pinewild community. The same project also garnered a Gold award in the $450,000 to $500,000 Home of the Year category.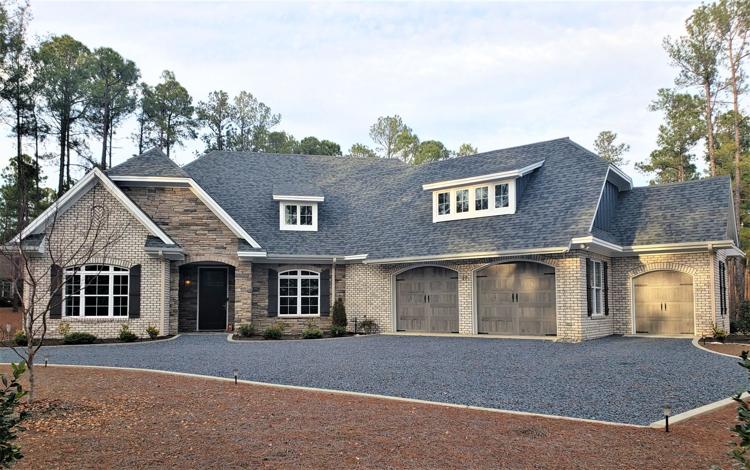 Owner Danny Adams founded the company with his wife, Traci, in 1978. In addition to being inducted with the inaugural class of the MCHBA Hall of Fame, Adams is also in the North Carolina Housing Hall of Fame. He has served as president of two local associations — including MCHBA and also the Yadkin Valley Home Builders Association. Adams also served as president of the North Carolina Home Builders Association in 2000.
His son, Dustin Adams, oversaw construction of the Best in Show award-winning project.
"There were some unique details in the brickwork and interior mouldings that were a step above. I think that is what stood out to the judges," said Adams. "We always build a quality home, but this homeowner saw value in the details. That makes it easy for us."
In particular, he said the homeowners had worked closely with them on many of the interior finishes.
"We had a good feeling about this home when we entered this year's competition. It started with the design process and there is just something about this house when you walk in. It works and it feels good," he added.
Adams said it is the hands-on process that is a huge asset for potential homeowners interested in a custom design.
"In a custom build, you can get whatever you want. You're not limited to the selections in a production builder's packages," he said. "And I don't have any bad feelings about production builders. There is a demand and they are meeting that. I am not anti-growth by any means. But I wish it was a different type of growth."
For his own customers, oftentimes he said a house will look and feel differently on paper than it does in real life. For this reason, he encourages his homeowners to visit the construction project once framing is in place, so adjustments can be made.
"With the Best in Show house, I give the homeowners a lot of credit for this win. They had a great vision and I am grateful to have been a part of it," said Adams.
This year's Builders Awards were held at the Fair Barn in Pinehurst.
"We have very few large events with the MCHBA and this is the only one distinctly designed to honor the builders," said Potter, who served on the planning committee. "The whole point, whether it is a builder of a $150,000 home or a $2 million dollar home, is that we are all part of the same association and support the same goal in growing our business."
Photographs and information on all winning entries in this year's MCHBA Builders Awards will be published in the May/June issue of Pinehurst Living magazine.