You may not know their names, but you've likely seen the faces of Dwight and Lisa Young. At least a cartoon version anyway.
The West End couple own and operate Nana & Papa's Old Fashioned Burgers food truck, a little side business they cooked up in late 2018. Their faces are painted on the side of the truck and the license plate is a compilation of their grandchildren's initials.
"The truck is a real attention getter," laughed Lisa. "People love the picture and our big American flags on the back."
Moore County natives, the Youngs have plenty of entrepreneurial spirit. Dwight worked for a time in law enforcement but decided long ago that he preferred to be his own boss. The couple ran a leather business for a bit, owned Eastwood Florist and Monument for 14 years, owned Eastwood Propane for 15 years, and currently own Southern Gold Bee Farm.
When they were getting ready to "semi-retire," a trip to the beach provided an unexpected inspiration. Near Shallotte, N.C., they stopped by Burg-Dog Grill, a roadside eatery.
"We got to know the owner. It is this great little burger joint," Dwight said. "To me, good food is making people love to eat. It's about taking your time and making people happy."
With that outlook, they decided to open a food truck with a simple menu designed to feel like you're visiting a friend.
"It's that backyard cookout kind of food," he said.
Burgers, hot dogs, fried bologna sandwiches, BLT's, chili cheese fries and apple turnovers make up the base menu. Last week they added cheesesteaks, cooked in the traditional style with grilled onions and peppers.
All their meat is purchased fresh, never frozen. They also use local grocery stores for their vegetables and have partnered with Maria's Mexican Restaurant in Pinehurst for commercial food storage needs.
"Maria is wonderful and she has helped us out a lot," said Dwight.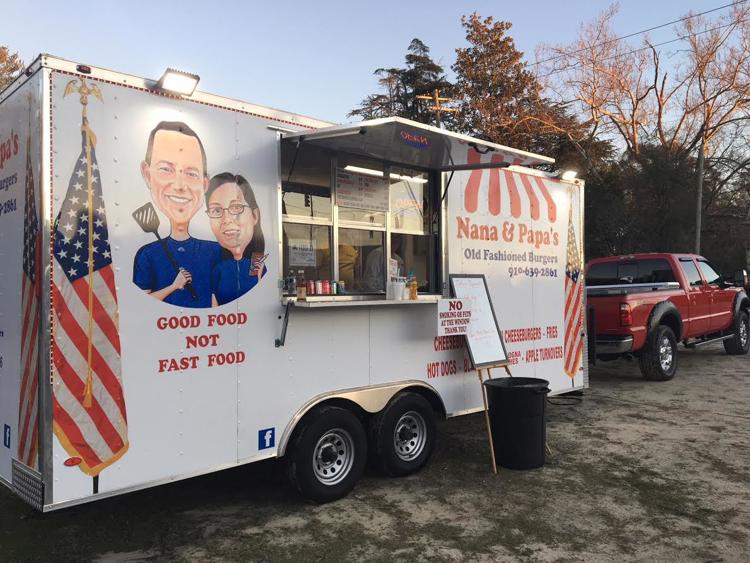 To select their perfect ingredients, however, they looked closer to home. Their family and especially grandchildren participated in taste testing sessions to pick out the perfect chili, cole slaw and even the style of the french fries: it's straight cut, not crinkle.
"We did a lot of research," Lisa said, with a smile.
The fried bologna sandwich has been a particular favorite. Dwight said he likes to grill it to a deep, rich brown. Then a piece of cheese is placed in the crease and the whole gooey-mess goes on a buttered and toasted bun.
"A lot of people say they've never had a fried bologna sandwich. I tell them you've been missing out," he said.
Married for 40 years with three grown sons and four grandchildren, the couple said their Christian faith is a daily guiding force in their lives. The food truck concept was especially appealing because they make a point to live debt-free and like the flexibility of setting their own hours.
"It keeps us busy and we like doing this together," said Dwight. "It's fun."
Most sunny days you can find them set up somewhere in Moore County. Tuesdays they're usually at Pinehurst Surgical, Thursdays at Pony Espresso in Southern Pines, and Fridays at the corner of N.C. 211 & N.C. 73 in West End, from 11 a.m. to 3 p.m.
Each morning they post their day's location on the Nana & Papa's Facebook page, so their fans can find them easily.
"Yes, we make a little money on the side but this is not about the money. It's about people enjoying the best burger," said Dwight.
Recently the couple were issued a perfect score in the state's restaurant rating system, the third time in a row they've received a 100 sanitation rating.
"We always stay local and only sell in Moore County," Dwight said. "Moore County has very particular, very high standards, and we like that. Plus I want to stay here in my own town."
Go online with Nana & Papa's Old Fashioned Burgers on Facebook to find their next scheduled location, or call (910) 639-2861.