Don't wait for old St. Nick to load up his sleigh before buying a Christmas tree this year. Supplies are running low on some area tree lots as the national tree shortage continues this holiday season.
The problem began over a decade ago when the economy was sinking fast. Growers put fewer seedlings in the ground, while others quit the Christmas tree business entirely.
Fraser firs are native to North Carolina and the most popular choice for Christmas trees, but they need around 12 years of care and growing time to reach the most popular Christmas tree height of 7 feet.
The increased demand for fresh-cut trees has pushed prices higher since 2017, a trend experts say could extend to 2020.
In Moore County, only Doby Christmas Tree Farm offers a choose-and-cut option. Since Frasers don't do well naturally in the Sandhills, this family-run enterprise grows white pine, Leland cypress, red cedar, and Virginia pines. The farm in Cameron also serves as a living laboratory for experimental species and hybrids for North Carolina State University.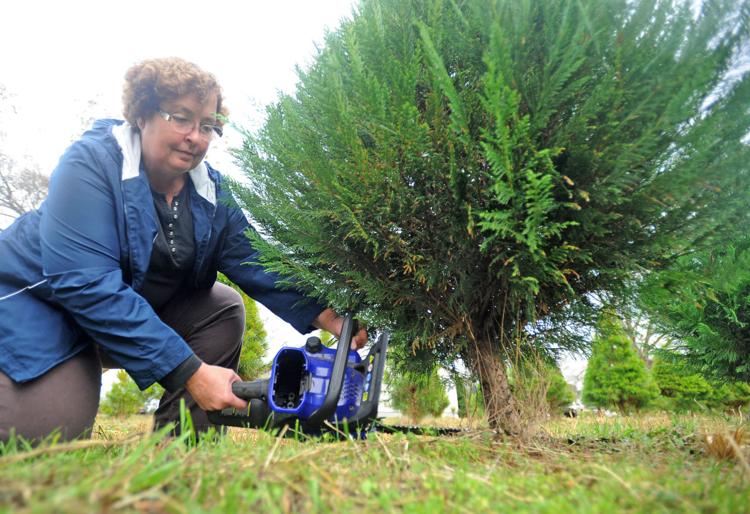 This year, as usual, the Dobys began selling trees the day after Thanksgiving and sold out in six days -- a new record!
Other local Christmas tree lots are also reporting brisk sales.
The Whispering Pines Fire Department ordered 250 fresh-cut trees from a grower in Tennessee this year. As of Thursday afternoon, they had eight left to sell on the lot.
"When we first got them in we sold about 40 to 60 a day. And we offer delivery to customers who live within our fire district," said firefighter Matthew Tiller.
At Gulley's Garden Center in downtown Southern Pines, it's a similar story. Their North Carolina-grown trees arrived in late November.
"This year we bought 300 trees. We have about 10 left to sell," said Daryl Remesnik, noting that only two of those were six-footers. "All the big trees are gone."
On N.C. 211, the Ace Hardware Seven Lakes tree lot has a nice selection of Douglas firs and Grand Michigan firs, but few Frasers.
"We are running extremely low on Fraser firs, but what we have are in a couple of different sizes," said Parker Baxley.
But in Southern Pines, at the corner of U.S. 15-501 and Murray Hill Road, Foster's Tree Lot still had plenty of Fraser firs late this week.
Vass resident Elizabeth Foster said this is their fourth year selling at this location. The trees come from a grower in Newland, N.C.
"We only sell Frasers and we still have lots of them," she said, noting they plan to remain open for two more weeks.
Mistletoe Meadows at Olmstead Village shopping center, at the corner of N.C. 211 and Murdocksville Road, bustles with activity with wreath-making underway and plenty of trees lined up for sale.
Mistletoe Meadows grows its own trees in North Carolina and operates five retail tree lots, plus a choose-and-cut farm in Laurel Springs.
"It's been fast and furious since we started the Friday after Thanksgiving, especially the weekend," said Floyd Kennedy.
He has been selling trees for Mistletoe Meadows at this same spot for a dozen years and coaches baseball at North Moore High in the springtime.
"We usually cut trees on Monday and they arrive here on Tuesday," he said.
In addition to Frasers, Mistletoe Meadows sells Colorado blue spruce "ball in base" trees that can be replanted, and fresh-cut white pine, Turkish firs and Con Color firs.
Kennedy said he plans to keep the tree lot open until Dec. 20.