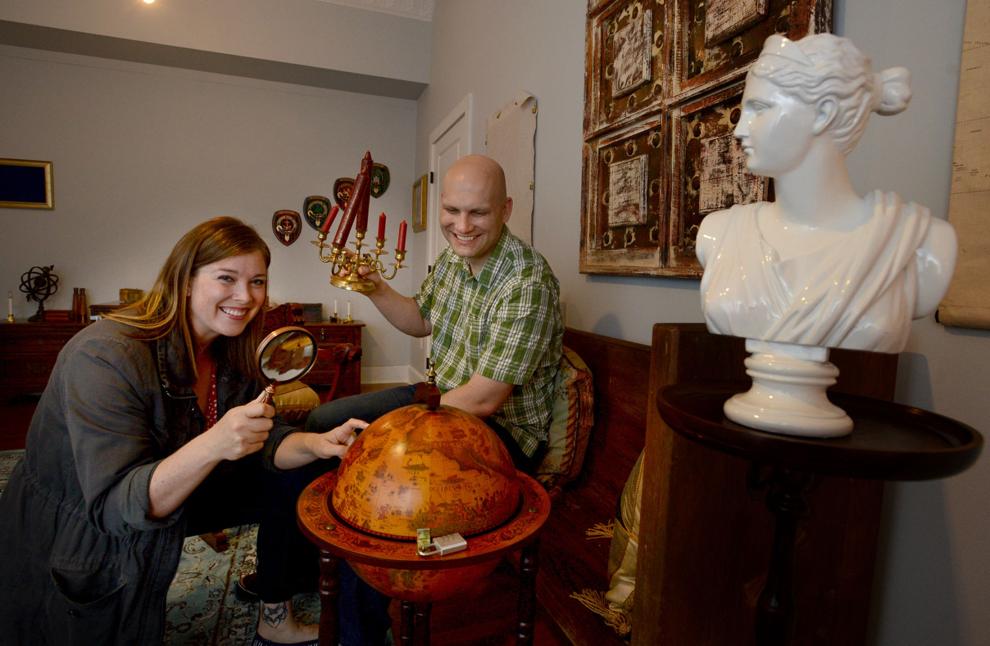 You have 60 minutes to find the clues, solve the puzzles, and unlock the mystery that will set you free. Ready, set, go!
A live-action form of entertainment, escape rooms sit at the intersection between board games and role-playing adventure. The idea is simple: A small group of players enter a puzzle-laden room, under a strict deadline, with very little instruction. You're given one hour — exactly — to work your way through a series of tasks that will lead you back out.
Success requires teamwork, communication, attention to detail and the ability to reason through each challenge.
Last year, Moore County's Barn Escape kicked off the trend locally with a Halloween-inspired adventure in a vintage barn in Aberdeen. It was such a hit, the co-founders decided to give it another go with a Christmas room and are now accepting reservations for a new steampunk-themed room for spring.
Off a quirky little alley in downtown Southern Pines, another new trio of themed escape rooms beckon players to give the game a try. Southern Pines Escape is the brainchild of first-time entrepreneurs Jason and Kaisha Elphick.
The couple settled in Moore County about a year-and-a-half ago. He is active-duty military, and she telecommutes back to a federal job in Washington, D.C. Owning their own small business was always on their "to do" list, especially since husband and wife have matching MBAs. They even keep a small notebook handy to collect ideas.
On a road trip last fall, Mother Nature intervened and rained out their romantic beach trip. Since they couldn't soak up the sun, they decided to make the best of the situation and soak up some local culture instead. What they thought would be a bear exhibit turned out to be an escape room in the New Bern area.
"We had never tried one and we totally did not escape," said Kaisha Elphick, laughing at their obvious newbie status. "But we were hooked."
The couple had accidentally left their idea notebook at home. After a quick stop to the school supply aisle, the trip home was spent brainstorming and scribbling furiously.
"We worked up a SWOT analysis. By the time we reached our house, we were asking ourselves, 'Do we really want to do this?' And the answer was yes," she said.
Immersive gaming has become increasingly popular, particularly for the much sought-after millennial market. The game exists in the real material world, but the escape room's theming and storylines are designed to transport players to another place, time or fantasy realm where puzzles are the main currency.
The best teams are usually those that have players with a variety of experiences, skills, background knowledge and physical abilities. This is one of the game's more appealing factors. Whether it is a group of friends, a family activity that spans generations, or a corporate retreat for team-building, there is fun to be had.
Players should expect to pay between $18 to $28 each — pricing varies by venue — but nearly every facility follows the same basic guidelines: The door will be shut behind you and the clock is ticking. Anything in the room might be a clue, or maybe it isn't. Players must use their wits and problem-solving skills to figure out whether an item has a purpose or whether it is just a red herring meant to confuse or delay your escape. Hints are available for the asking, but once you reach three, your time ticks out.
"It's important that you have balance. You want the game to be challenging enough that there is always the threat of failure," Elphick said.
Another key element to creating a successful experience is theming. Players should feel involved in the space, and escape rooms often use technology, props, lighting, and furnishings to tell the story.
Finding the right space and vision that bring all of these elements together can prove tricky. The Elphicks wanted to be in or near downtown Southern Pines and needed space for at least two escape rooms. The spot they settled on off the alley by Denker's had solid bones, but required quite a bit of upfitting. The tin ceiling in the old building was maintained but otherwise, they had a blank slate. The couple drew up floor plans to create up to six escape rooms.
Kaisha Elphick personally wrote the plot line and puzzle path for their first room, the Dial "D" for Death escape challenge. The story plays out in 1945, when a private investigator solves a cold-case murder and then becomes a victim himself. As a safety precaution, he hid all of the evidence in his office. It's up to the players to find the evidence and solve a murder — or two.
The other two rooms offer equally compelling stories. Players can head to Fabulous Las Vegas, waking up in a hotel room following the biggest party of all. Or was it? It's a shame you can't remember a thing and security is showing up in one hour to clear you out. For a slightly tamer adventure, Da Vinci's office provides players with a rare, private viewing of Leonardo's own quarters. You have one hour to delve into the inner workings of one of the greatest minds the world has ever known. Can you solve the riddles he left behind?
"When we moved here, coming from D.C., there was so much there to do and such an active lifestyle. It was a hard transition," Elphick said. "We decided we wanted to open a business that would create a new opportunity in this area. It is something the town needs, and there needs to be more to do."
Elphick said the escape room is a good fit because the games appeal to a broad age range and are popular with company retreats and team-building groups. She spent months researching puzzles and many weekends poking around local antique shops to furnish her rooms.
When players are in the game space, Elphick watches their progress from a video monitor. From this perch, she can offer hints, if asked, and has a front row seat to human nature.
"We've had friends come through. We've had some military groups come through. Next week we have a parents school group coming in," she said. "Escape rooms are great because you quickly learn that you need to communicate in order to get through the room. I love those moments when they have figured out a puzzle. There is that a-ha! moment."
But the clock shows no mercy. Her first test group didn't figure out the Dial D room. The next group didn't fare much better.
"We had some really good feedback, and we've modified a bit with that. What you hope for is to have about 25 percent of our player groups to break free," Elphick said. "In putting together the room, I did research up the wazoo. I researched so much stuff. One of the biggest challenges is coming up with fresh, new puzzles."
And that process is ongoing. She said each escape room has a life expectancy of around six to eight months. A new military-themed space is already in the works, and she keeps that idea notebook close by in case she's feeling inspired.
"I hope folks will come and enjoy these rooms. We've put a lot of time and thought into this," she said.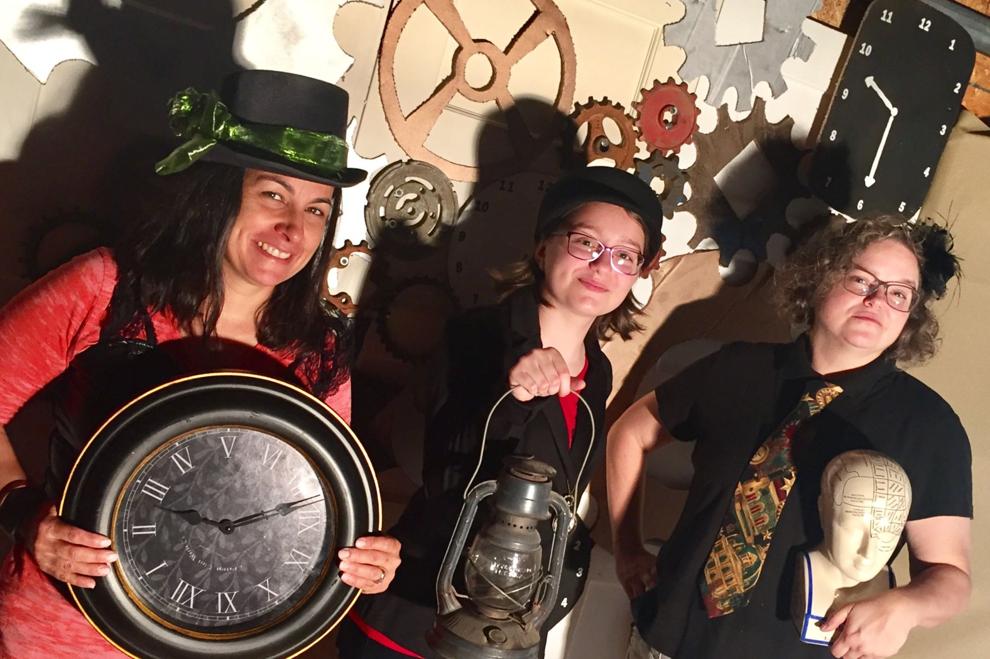 For Barn Escape co-founders Heidi Whitescarver and Rebecca Beittel, keeping it fresh means hitting the books. Open only seasonally for a few weeks around Halloween, Christmas and early May, each of their escape room adventures are literary themed.
Beittel wrote the newest escape as a steampunk-inspired romp through time with H.G. Wells and Jules Verne. The Clockmaker's Apprentice takes players into the workshop of Professor Wilhelm Uhrmacher, where they are surrounded by clever contraptions and ticking timepieces.
"We are in a barn with no electricity, so everything we do is kind of rustic and vintage," Beittel said. "Heidi and I both like steampunk, so we've filled the inside with gears and gizmos, and all of the puzzles have to do with time and time travel. You'll find out pretty quickly that you have to pass the apprentice's test to escape the room."
Beittel said she enjoys incorporating settings and characters from famous literary works in each new escape room. The steampunk theme actually works across two adjoining spaces and different historical periods. Players may find they have to move from one room to the other, and back, to finish a challenge.
"I taught English for many years. I am a prolific reader and writer, and Heidi is game for anything I want to do," she said. "Some escape rooms are more visually based, and the past two rooms we did had a lot of reading involved. The Clockmaker's Apprentice has some reading though not as much. What I can tell you is that all of the things in the room are either part of the mystery or we've put them there to distract you."
The Barn Escape operates on a limited three-week schedule. Once a room is closed, it is gone forever.
"When we close, it is done. We dismantle the room and start planning the next one," Beittel said.