Make your summer a little sweeter with new styles for you and your home, or get a head start on your Christmas shopping this weekend. The annual Downtown Southern Pines Sidewalk Sale will take place Saturday, July 18, from 10 a.m. to 5 p.m.
Sponsored by the Southern Pines Business Association, the use of face masks is strongly encouraged during the event. Shops will also have hand sanitizer available for patrons.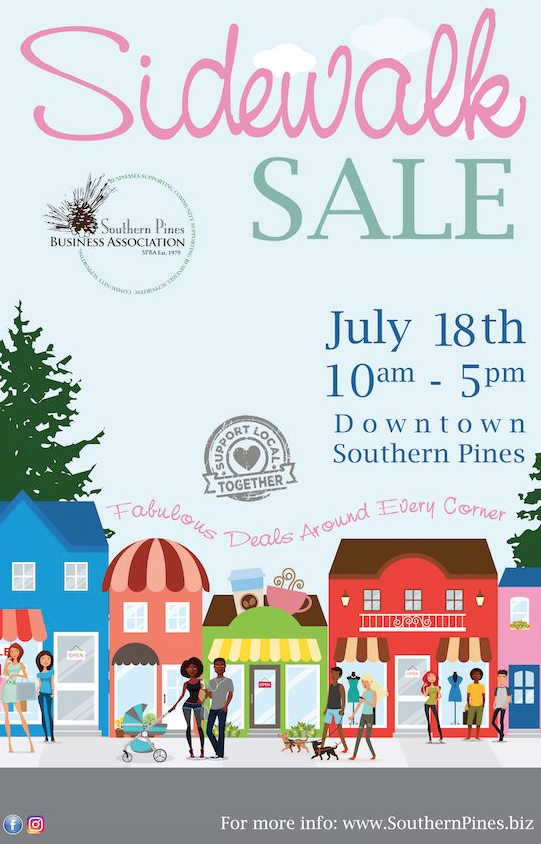 Don't forget to grab some lunch or hang out afterward for dinner at one of our amazing downtown restaurants.
Participating businesses include Against the Grain Shoppe, Bella Filati, Casino Guitars, The Christian Bookstore, Cote Timeworks, The Country Bookshop, Denker Dry Goods, Emmanuel Thrift Shop, Encore Center, Eve Avery, Framer's Cottage, J. McLaughlin, Lavender, Little Toy Shop, Marie & Marcele Boutique, Mockingbird on Broad, Monkees, Morgan Miller, Opulence, Pine Life, Pink of the Pines, R. Riveter's flagship store, Rainbow Cycles, Riverjack Outdoor, Solene Patterns, Southern Pines Welcome Center, and Wine & Design.