One day soon you'll have the chance to pick up a bottle of premium spirits distilled locally at the Southern Pines campus of Brad Halling American Whiskey Ko. — BHAWK, for short.
The brainchild of Brad and Jessica Halling, their vision is a brand that honors common Americans who have engaged in service and sacrifice. The first space guests will enter is a living museum where these deeds will be recognized: the Hallings call it the "Gratitude Room."
"Our brand surrounds us. In the Fort Bragg and greater military community, we are surrounded by grateful people dedicated to service; our brands will honor them as well as private citizens with demonstrated selfless service," said Jessica.
Like her husband, she committed to military service while still enrolled in high school. Raised in Wisconsin, Halling said she first felt the call in middle school and it only grew stronger when Desert Storm began.
With an interest in foreign languages, she served in the Army Reserves as a Russian linguist and interrogator as she pursued law school. Not ready to settle into an office job after graduation, she opted for active duty and joined the Army JAG Corps. Halling rose to senior judge advocate and the rank of Colonel prior to her retirement in December 2020. Today she practices as a private attorney in Cumberland and Moore counties.
Brad Halling was in eleventh grade, having just turned 17 years old, when he enlisted in a delayed entry program. He was inspired by a hometown hero in Rochester, Minnesota, who served in MACV-SOG, military parlance for Military Assistance Command, Vietnam – Studies and Observations Group. It was a highly classified, multi-service special operations unit during the Vietnam War.
Following those footsteps into the military's elite units, Halling served in the 7th and 10th Special Forces Groups. Only recently declassified, one of his early clandestine assignments was with the U.S. Army Physical Security Support Element-Berlin. When the Berlin Wall fell, Halling transferred to Fort Bragg and joined a Special Missions Unit.
In October 1993, Halling and his team were engaged in the Battle of Mogadishu in Somalia. Flying on a Blackhawk helicopter with the call sign "Super 62," Halling was providing air support from the gunner's seat for men on the ground — where he otherwise would have been — when a rocket propelled grenade (RPG) struck the helicopter.
"We were trying to assist. Had the crew chief not been shot (on Super 62), I would have gotten off with the first team. It's just a turn of events, you just don't know," Halling said.
More commonly known as "Blackhawk Down," a name coined by bestselling author Mark Bowden, the 18-hour battle left 18 American dead and 73 injured, according to official military reports.
Gravely wounded by the RPG explosion, Halling climbed out of his seat on the helicopter and braced for impact. He credits the exceptional skills of the pilots, members of 160th Special Operations Aviation Regiment for landing the stricken aircraft, saving their lives in the process.
Halling lost his left leg above the knee and spent the next two and half years dodging the military's medical boards. Army policy, at the time, did not allow soldiers with above-knee amputation to remain on active duty.
When the bureaucracy caught up with him, deeming him "unfit," Halling appealed. He took his fight all the way to the Chairman of the Joint Chief of Staff, Gen. John Shalikashvili. The two men had met three years prior, while Halling was recovering in the hospital.
His tenacity paid off. Halling was allowed to remain on active duty and retired with the rank of Sergeant Major after 20 years in 2000. When 9/11 happened the following year, he was called back to Fort Bragg, where he continues to work as a trainer with a private defense contractor.
Whiskey has been a part of the American military experience from the earliest of days. While serving as Commander and Chief of the Continental Army during the American Revolution, Gen. George Washington noted "the benefits of moderate use of liquor have been experienced in all armies and are not to be disputed."
"It is a vehicle to express so many different things. The joy of promotion, the heartache of loss, the celebration of a change of command," said Brad Halling.
He and Jessica had tinkered around with some homebrewing, visited wineries and craft distilleries and a few bourbon tasting events. In 2019, a new career path for the couple began to shape after the General Assembly passed bipartisan legislation that advanced distillery development in North Carolina.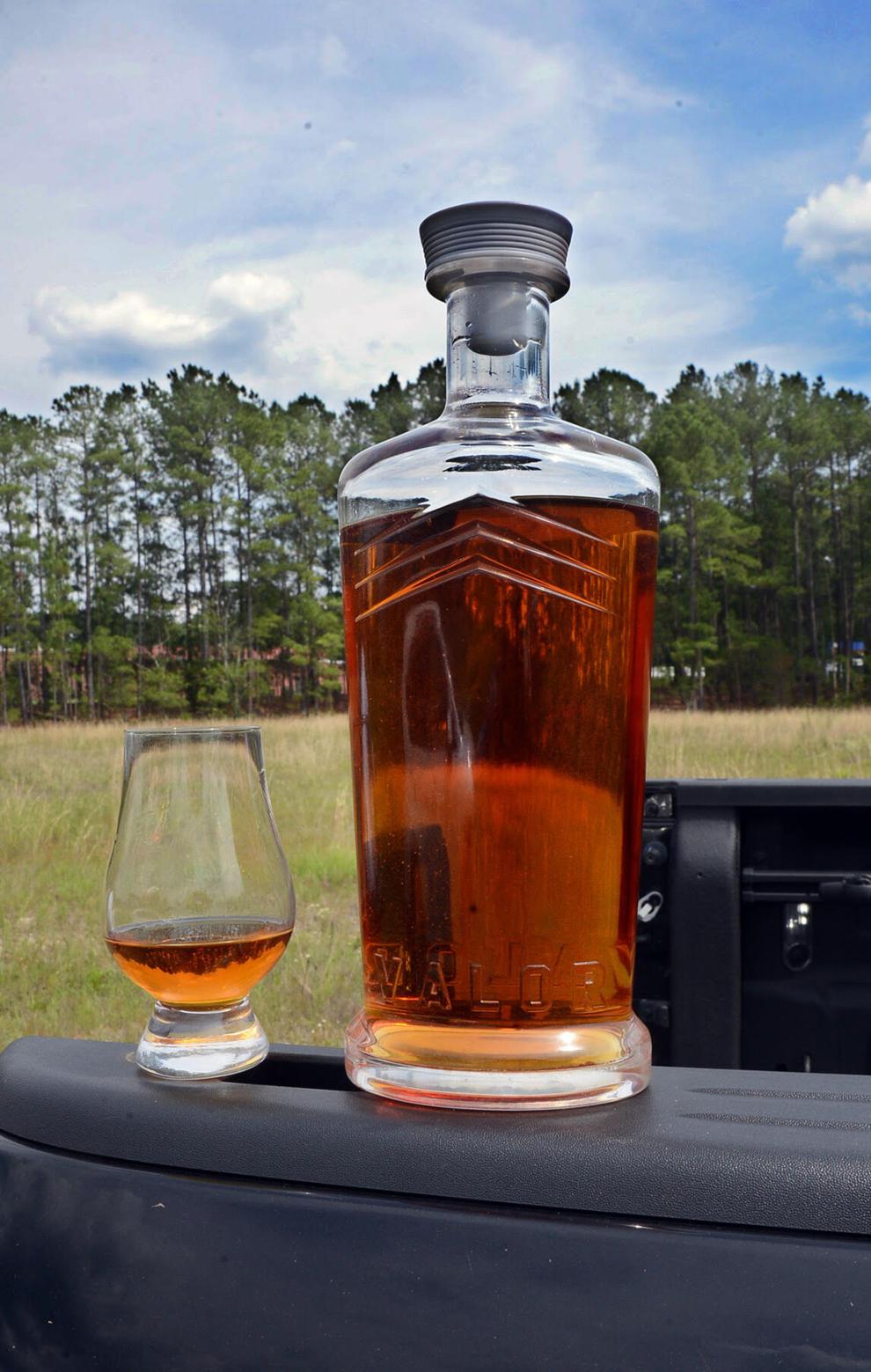 "We decided this was the right climate. Fort Bragg is right there and no one else was doing this," Brad said. "When we started this journey, we knew they were fighting for these changes. We put the pedal to the metal when they made them. We will be one of the first to build a facility to meet the new legislation. It puts us in a unique position."
Tag Galyean, cofounder of the West Virginia distillery Smooth Ambler Spirits, has been a friend and mentor to the couple. He designed the 15-acre resort-like campus site in Southern Pines where BHAWK will operate.
Conceptual plans call for a medium-sized regional distillery plant, cocktail bar and restaurant, private tasting room, retail space, several rickhouses and an outdoor stage on Yadkin Road, between Trimble Plant Road and U.S. 1.
On June 9, the Southern Pines Town Council approved the Hallings' zoning request for their proposed mixed uses on the property. Over the next several months, the project will undergo further review by the town.
"We had looked all over Moore County," said Jessica. "We wanted a site that was accessible to Fort Bragg and the citizens in Moore, but frankly we were outpriced when we looked for an existing building."
When they found the undeveloped tract in the town's industrial district, with its lush wetlands nestled in the far corners, Jessica said they viewed it as a beautiful, urban green space.
"We couldn't be happier with it. We are thrilled."
Their family of high-end whiskeys and unaged spirits will be in production at all times, once the facility is up and running, to include rye whiskey, bourbons, traditional and flavored vodka, gin and gin with botanicals, and possibly a bourbon cream.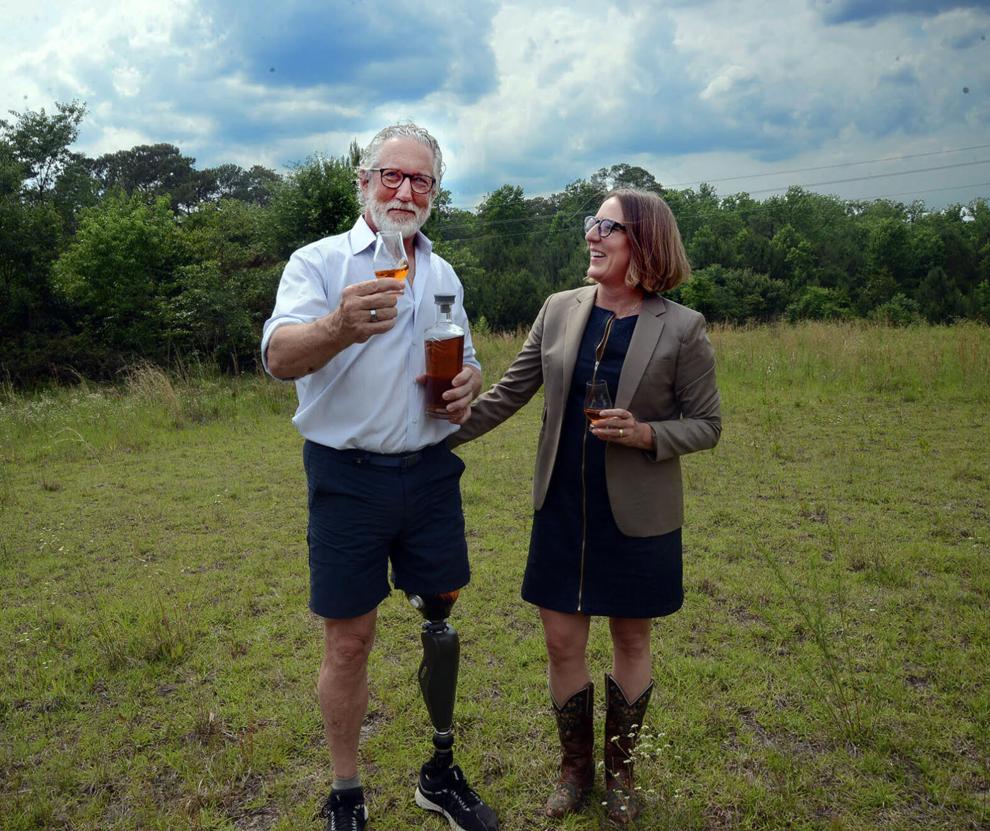 The couple plan to incorporate military themes throughout the distillery's branding. Not to be overlooked, the image of an eagle's feather will grace each bottle label.
Brad Halling first drew a fallen feather onto a wine label several years back while organizing an outing for a group of Wounded Warriors. Eagles have long symbolized strength, courage and American patriotism. It is also the term that was used to describe an American soldier in the field.
Hand-drawn in shades of brown and white, the deliberately nondescript single feather he designed for BHAWK labels honors those lost on the battlefield and recognizes the contributions of "quiet professionals," both military and civilian, who have done extraordinary deeds in the service of the nation and community.
The Gratitude Room at their craft distillery will be developed as an extension of the namesake labels, where the full story of an individual, unit or sacrifice that is being honored can be told in more detail.
"As the labels change, so will the room," Brad said, noting the fallen feather will be a constant emblem denoting service and gratitude.
You can chronicle the journey of Brad Halling American Whiskey Ko.(BHAWK) online by following Halling Whiskey on Instagram.