A house needs a solid foundation so it can endure. Children aren't so different.
Starting this fall, a unique collaboration between Habitat for Humanity of the Sandhills, the Community Learning Center at Pinckney, Sandhills Community College (SCC) and the town of Carthage will deliver a new learning opportunity to 10 non-traditional students.
The Pinckney Pathways Construction Program will provide hands-on trades skills and potentially prepare these students for employment after high school, while also building a house for a future Habitat homeowner from the ground up.
"This program exemplifies Habitat's mission to bring people together to build homes and a future for hard working residents who otherwise would not be able to afford a home," said Amie Fraley, Habitat's executive director. "It is just a really cool, collaborative project."
Located in Carthage, Pinckney offers alternative public school services for students in grades 7-12. The school's smaller class sizes and resources provide additional support to students who are experiencing academic and/or social challenges.
The 2019/2020 Pinckney Build will be at 103 Old Glendon Road in Carthage. A previous home on the site had burned years ago and the land was abandoned to the town. Carthage donated the lot to Habitat.
"These students will build a Habitat home under supervision of mentors, teachers, and construction supervisors," said Stacy Kelley Lebak, Habitat's marketing and communications manager.
Habitat is seeking sponsorships and financial support from area businesses, churches and individuals to assist with the project and ensure the Pathways program is sustainable.
Carthage United Methodist will supply each of this year's students with appropriate work boots, tool belts and tools.
"Especially in this first year, we are trying to make sure we get this project up and running in a good solid way," said Habitat Executive Director Amie Fraley. "We feel there are people and businesses who have a heart for non-traditional learners. Some kids are just not cut out to sit in a classroom all day."
The smaller class sizes and individual pacing at Pinckney allows students to thrive, but because of its size the trade-off can mean less access to activities.
"These kids crave the opportunity to show our community that they are more than, or different from, the perception that a lot of people have of students at Pinckney," Fraley said.
She noted Habitat homeowners sometimes experience a similar stigma.
"That is what makes this a great collaborative partnership. We get each other in a lot of ways," she added.
Raquel Martinez, a former colleague of the local Habitat affiliate now serving families in Colorado, is credited with sharing an idea that inspired the Pinckney Pathways project.
The Greeley-Weld Habitat is in its third year of a five-year partnership to build Habitat homes with students from their alternative high school.
Not only are these students learning new skills, they are meeting business and community leaders. Many of the students ultimately received job offers and 100 percent of the students graduated with their high school diploma as well as 27 credits toward a degree at their community college.
According to Lebak, these were Colorado students who previously carried an average 0.8 grade point average and 37 percent school attendance rate.
"We believe every Habitat build can transform both the future homeowner as well as the volunteers, but the Pinckney Construction Pathways Project may take that transformation to an entirely new level," she said.
Longtime Sandhills Habitat volunteer Bill Montgomery is chairing a committee of volunteers to serve as ambassadors for the Pinckney Pathways build.
Habitat is seeking additional members who can encourage local businesses, churches and individuals to join in on the work alongside the students.
SCC/MCS Team Up for Trades
If it takes a village to raise a child, might the same be said about forging partnerships for the greater good in order to offer options for students while also addressing the current needs of the workforce?
A collaboration between Sandhills Community College, Hoke County Schools and Moore County Schools is giving students access to high-quality credentials while they are still in high school through the new Workforce Continuing Education (WCE) Career and College Promise (CCP) pathways.
Through the leadership of Freddie Williamson, superintendent of Hoke County Schools, Bob Grimesey, superintendent of Moore County Schools and Adell Baldwin, principal of Hoke High School, the North Carolina State Board of Education approved an amendment to a recent policy which now allows high schools to issue high school credit toward CCP WCE pathways.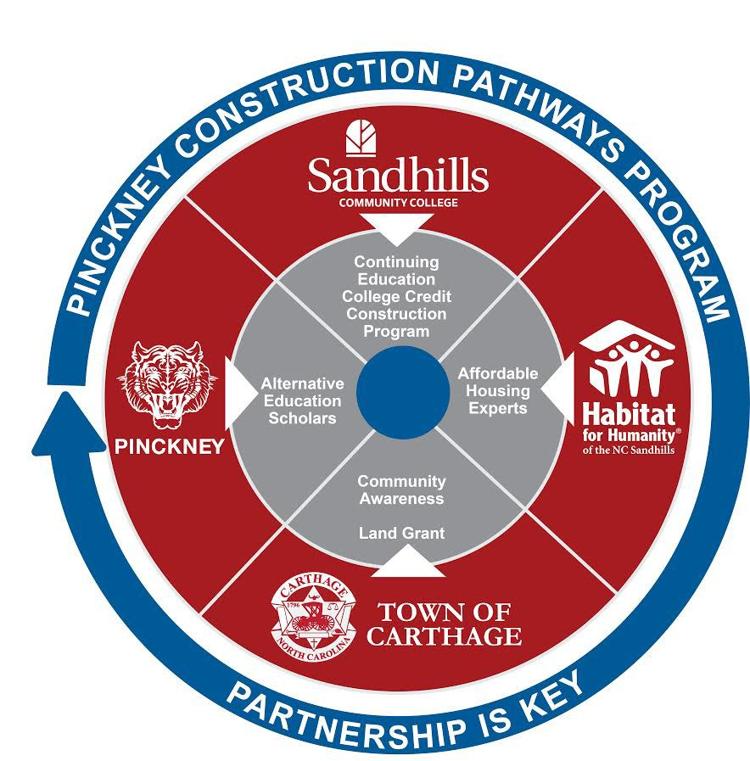 In addition to valuable employment pathways, Moore and Hoke County students participating in CCP programs while in high school are also eligible for Sandhills Promise. Sandhills Promise is a guarantee that if a student completes four SCC CCP courses while in high school, they can attend Sandhills Community College at no charge for the two years after graduation.
"We don't want graduates starting their lives in debt. With a little effort from the student, Sandhills Promise allows students the opportunity to continue their education or enter the workforce debt free. Ultimately, we believe this Promise enhances our workforce as more students are given this opportunity," said John Dempsey, president of Sandhills Community College.
"This approved amendment significantly changes things for those students who wish to pursue sustainable careers in trades, advanced manufacturing, fire fighting and certain allied health programs," says Andi Korte, vice president of Continuing Education and Workforce Development at Sandhills Community College. "This has a substantial impact at Sandhills because of Sandhills Promise."
Moore County Schools joined the conversation in weaving the need for skilled trade workers in the construction area into the effort. As a result, the partnership was formed with Sandhills Community College, Habitat for Humanity and the town of Carthage.
"We are excited to partner on these new opportunities for students and for our community. By working together, our students are being offered tremendous learning opportunities that not only impact them but also the community," said Mike Metcalf, executive officer for Academics and Student Support Services for Moore County Schools.
Upon completion, the home in Carthage will be sold to a Habitat family with a guaranteed affordable mortgage like all other Habitat homes.
"This is our pilot year. But our goal is to do this every year with Pinckney," said Fraley.
Most students at the school have been unsuccessful in traditional high schools and classrooms, she added, but, like everyone, they have a desire to prove they can contribute to their community.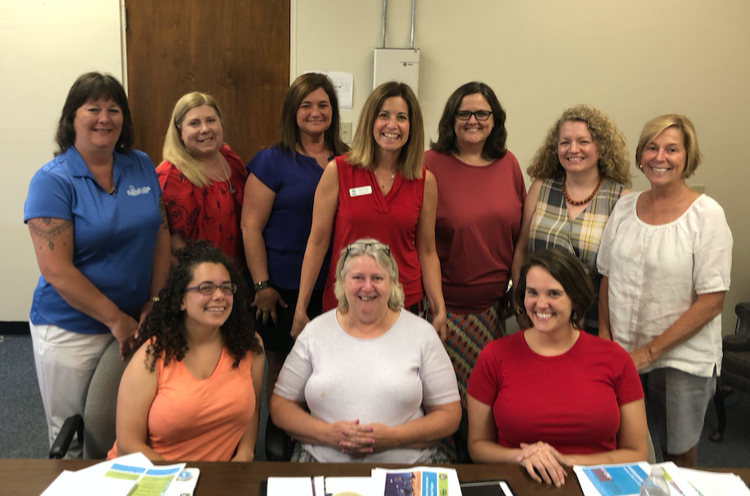 "Pinckney's principal Kenna Wilson has such a heart for these kids. And she understands this can help make a difference between successful and unsuccessful adults," Fraley said. "We cannot say enough about the staff leaders at Moore County Schools and Pinckney – their passion for their students is inspiring, and we are eager to build with all of them."
This year's build will be completed by 10 Pinckney students who will be handpicked to participate, including two female students.
The majority of work will be completed during school days by the students, but Habitat will make arrangements for a few Saturdays for community participation on-site. The first community day at the Carthage Habitat site is scheduled for Oct. 5.
Any potential homeowners families interested in this specific project are encouraged to contact Habitat for Humanity of the Sandhills directly to schedule an appointment for an upcoming homeowner selection meetings, to be held Oct. 24 and Oct. 26.
Financial contributions are also welcome and the intent is to create a sustainable program for future Pinckney Pathways Build houses in the Carthage community.