Standing out from the crowd is tough these days. In life and business, people are exposed to a barrage of information, advertising and branding all vying for attention.
How can your company best compete?
"The most persuasive language is to show that other people are doing what you want them to do," said Michael Barbera, an award-winning consumer psychologist and consultant based in Pinehurst.
Barbera and his team at Clicksuasion Labs help businesses develop a better understanding of consumer behavior and learn to apply those theories to their marketing.
They coined the word "clicksuasion" to describe the psychology of clicks on the internet, purchases and persuasion that businesses use to build a positive customer experience.
Often, Barbera said, the best way a business can get its message across is to reframe it.
"Say you go into a store looking for an item and it is marked "out of stock." We would put the blame on the company. They are at fault for not stocking enough inventory," he said. "But say the same store marks that item as "oversold." Now they have placed the blame on consumers. The item you want is in demand and we want what others have."
He bristles at the term "mind games," instead he views the application of psychology to commerce as a way to help both businesses and consumers make better buying decisions.
"There are ethics when it comes to psychology. Our view is 10-10-10. How will the consumer or client feel about this decision in 10 minutes, 10 months and 10 years."
In academic journals, one can find a phenomenal amount of consumer psychology research. But the information is not translated in a way that most business owners can understand how it could be used to compliment their work.
"This is where Clicksuasion bridges the gap. We translate the science and advise our clients how to apply it."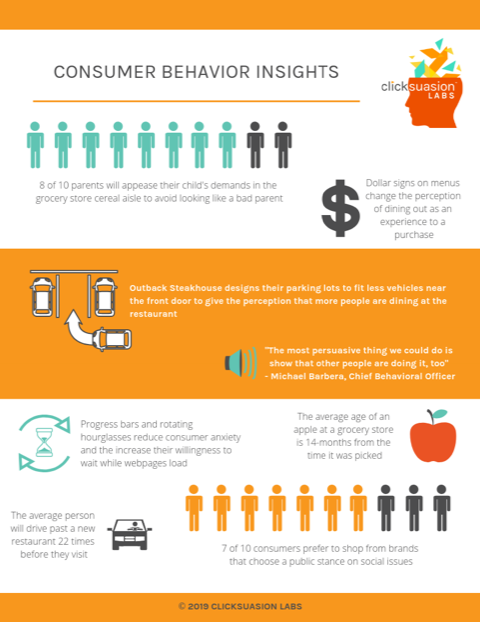 On the wall above his desk is a favorite quote by Robert Cialdini, a professor at Arizona State: Behavioral science is a business without a shipping department.
Next to it, Barbera has put his own business motto: We are that shipping department.
The hardest part of sales is being able to actually make the sale, the conversion. It is expensive and time consuming to catch that interest, so maintaining it becomes essential. Businesses are dependent on repeat customers to be successful.
"It is about relationship building and that is a focus we have here," he said. "You want your customer to have a good experience so they will come back to shop again."
He founded Barbera Solutions in Pinehurst six years ago, but in growing his own business and expanding his staff and services, found that name no longer fit. In September 2018, Barbera launched Clicksuasion Labs.
"We have shifted from a consulting business to a company that provides business research, advising and teaching."
Behavioral science principles can benefit every business, he believes. Therefore putting the information in layman's terms will help the company get where they want to be and where they need to be.
"If everyone is happy with your product, you will be successful."