Modern living in the Sandhills demands air conditioning. For more than 20 years, Matt Bialer has answered that call.
"I am never not busy," he said.
In 2007, Bialer and his wife, Sharon, founded West End-based TempControl and have steadily grown their business from just the two of them to 16 employees today.
This month they will move into their new 9,600 square foot headquarters and warehouse near N.C. 211 in Seven Lakes, the company's fourth home. The new facility includes 3,200 square feet for offices and a conference room, with a massive warehouse large enough for the fleet of eight company vehicles to park and load inside, during inclement weather.
Most importantly the new building includes a training room for new and potential hires in the heating, ventilation and air conditioning (HVAC) business.
Bialer has instructed HVAC coursework for Sandhills Community College for the past two years, first at the Moore County Homebuilders Association building, in Aberdeen, then at the Palmer Trades Building on the main SCC campus.
"There is a trades shortage. There is a truck driver shortage. There is a parts counter worker shortage," he said. "There are shortages all across the board in the trades industry. That is just how it is."
"My goal with teaching was to create more able bodies and educated individuals to enter the HVAC trade in our area," he added.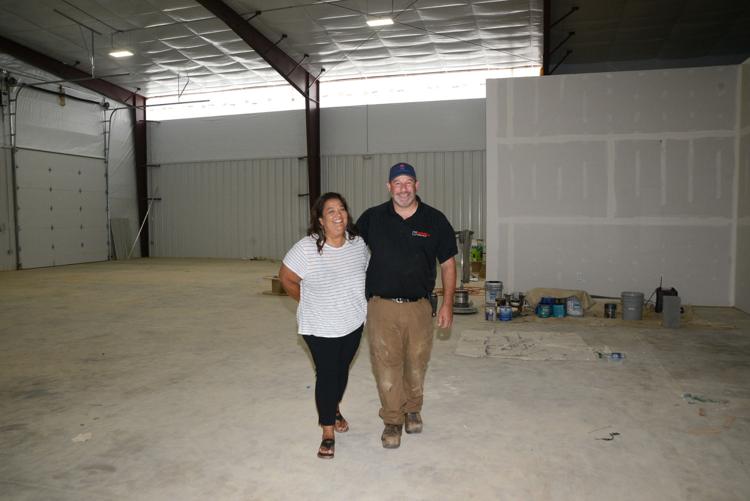 The classroom inside TempControl's building will provide for private classes for current and future employees, and Bialer said he also plans to hold occasional, basic 'Homeowner 101' type classes for the public.
His most recent two hires, his own son Jacob Bialer and friend Taylor Gaskins, are both 2019 graduates from Pinecrest High School.
"We welcome them. That is what we need in trades is young kids who have decided that college is not the right fit," Bialer said. "I am proud of them taking a step to make something of their lives right away. They are going in to a career with no debt and will be making decent money."
"I am excited to see the next line of adults coming up to these types of jobs. The building industry also needs plumbers, masons and electricians. We've love to see more of these kids."
Bialer said he knew early on that he was not interested in traditional schoolwork. But what he did have was a strong aptitude to remember lots of information and he needed to make a living.
"Sharon and I married young, and we started a family young," he said. "When you have a family then you have responsibilities."
In 1996, his starting wage in the HVAC business here in Moore County was $4.25 an hour. A year later his pay was bumped up to $5 an hour, once he earned an EPA certification.
Ten years into his career he was ready to try his hand at owning a business. From the beginning, he based TempControl's services on honest appraisals, rather than relying on a commission-based model.
"I don't want our technicians having to make money by stretching the truth. We base our rate of pay on their knowledge and ability to do their job," he said.
"A lot of people already knew who I was and they would seek me out. Six months in we hired Brad McNeill and he is still with the company," Bialer said.
He attributes their success to honest, hard work and paying his staff based on their knowledge and ability to do their job, rather than a commission-based approach.
"With the trades shortage, we want to keep the good people we have," said Sharon, noting they have very little employee turnover. "We try to stay competitive with benefits and wages."
Most recently TempControl was headquartered in a 3,500 square foot commercial building -- once home to The Italian Table restaurant. The Bialers plan to keep and lease the building, which is centrally located in the Seven Lakes business village.
"There has always been interest in this property. It is kind of in the heart of where we are in the community," she said. "We're hoping to see it back as a restaurant. We have a prospective tenant we've already been talking to."
Work on their new, larger building and warehouse began in February 2018.
"We were outgrowing our previous location. The demand for business is so much," Bialer said.
With projects being planned out two to three weeks in advance, one big problem was the small warehouse space. There was not enough room to handle the necessary inventory.
"Looking at the market, we saw an opportunity to buy another lot and custom build. And the market is there to lease the current building," he said.
The new building faces N.C. 211, which is expected to be widened to a four-lane boulevard starting in 2020. Nearby a new O'Reilly Auto Parts retail location is also under construction.
"It's been really nice to build around our own business instead of trying to conform to a space that wasn't made for us," Sharon said. "We were able to make decisions and add features we need."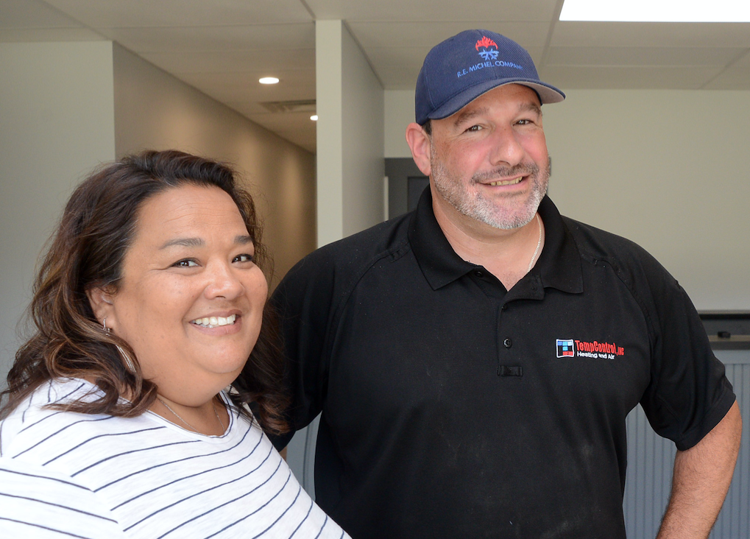 They broke ground last June and hired West End-based Rhetson Co. to handle construction and general contracting duties. The Bialers met Rhetson owners, Brian and Julianne Clodfelter, at a Pinecrest High football game last year.
"We let them know what was going on and they said they could help. It's been a smooth process, but they have the same trouble we have with tradespeople being so scarce," Bialer said. "Right now the market is booming and there are lots of things being built. Finding good, quality tradespeople to do the work is hard."
The chronic trades shortage made their decision to create a classroom so Matt could continue teaching new recruits all the more valuable.
"We have a personal reason for wanting to do it. We need to find able employees to come into the trades," Sharon said. "Matt has taken a big interest in it, but we are so busy. It can challenging. There were plenty of days when he would come home from teaching a 9 p.m. class and go right back to work."