The railroad came first, an economic engine that encouraged commerce to develop around what would become the town of Aberdeen. In time the downtown area became known as "The Shopping Center of the Sandhills," and a more recent revitalization effort has breathed new life into its historic buildings.
Two years ago there were nine empty storefronts. Today there is one, and it is in the process of being redeveloped, said Jen Gallimore, Aberdeen's downtown and economic development planner.
"My primary goal was to bring awareness back to the area," she said.
Back in 1990, Aberdeen was selected to participate in the Main Street program, a state-sponsored initiative that helps small towns create stronger communities through preservation-based economic development; however, initial interest in the program dwindled quickly.
Two decades passed before town leaders voted to reapply to the program.
Four years ago, Aberdeen was selected for the inaugural class of the Downtown Associate Community Program which was a precursor to potential reinstatement in the Main Street program. When Aberdeen regained its full designation in the North Carolina Main Street program in 2017, Gallimore was brought on board to oversee strategic planning, events, marketing and to create the Downtown Aberdeen website.
"Main Street is an amazing program for small towns working on revitalization. We are the epitome of someone who benefits," she said.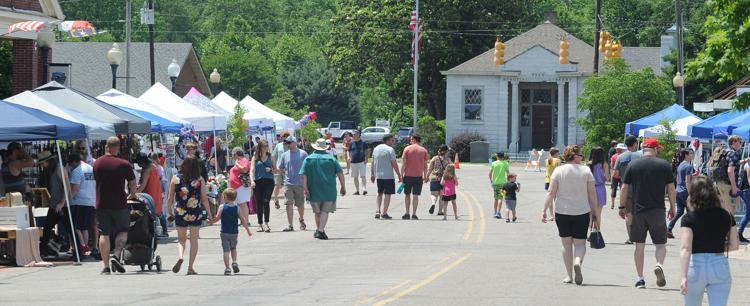 At the same time, town leaders also adopted policy changes to Aberdeen's development ordinance that enhance opportunities for downtown businesses, and increased spending on streetscape and beautification plans. This included a new grant-funded facade improvement program for downtown businesses and installing prominent gateway and wayfinding signs to direct passing motorists to the downtown area, and a new mural currently underway by Sanford-based artist Chris Dalton.
In addition, a Downtown Advisory Board was formed, an asset map was developed alongside vision planning, and new community events were encouraged such as the Sunday Exchange music series.
Gallimore said collaboration with business owners has been absolutely vital for these town's revitalization efforts to succeed. During her first three weeks on the job, she walked the town introducing herself to every single business owner and manager.
"If your merchants aren't understanding of your desired outcomes or vision, everything falls apart," she said. "There needs to be transparency and an open line of communication. When we have a round table discussion, they understand the town isn't just making decisions without getting input directly from them. That is what has made this successful so far."
Jackie Cornell, who chairs the Downtown Advisory Board, credits Gallimore for encouraging downtown businesses to partner with the town.
"Jen got us excited. I met her two years ago at a meeting and the way she was trying to connect us all together was huge," said Cornell. "It was kind of like lighting a fire.
"She has been an amazing resource in getting us all back together as a group and connecting the town with the merchants," she added.
Gallimore said she has enjoyed her work, but was also busy behind-the-scenes completing her Master's degree thesis in public administration from the University of North Carolina at Wilmington. Recently, she accepted a promotion to serve as economic development specialist for the town of Clayton.
"I fell in love with downtown Aberdeen," she said, "and hope the town will continue to find value in the Main Street program."