About a dozen 1960s-style ceramic Christmas trees line a table in the back of Crafter's Heart Studio in Robbins. Beside each tree sits paint brushes and mason jars filled with water — their outer edges stained with paint from a previous class. In a few hours, people from near and far will file in, put on an apron and let their minds run free at Robbins' new creative hub.
Crafter's Heart Studio opened its doors in October, and it's been bustling with business ever since. Owned and operated by Candy Beal and her cousin Debbie Hipp, you won't find classes on Van Gogh or Monet at Crafter's Heart.
According to Beal, the studio steers clear of your typical canvas art.
Instead, they offer unique art classes on everything from wreath making to sign painting. Most recently, folks from all over the area have driven to Robbins to paint a ceramic Christmas tree or a little ceramic vintage truck.
"Canvas painting is fun while you do it, but what do you do with it when you get home? This is stuff you can hang up on your door and be really proud of and can use day to day or season to season," Beal said.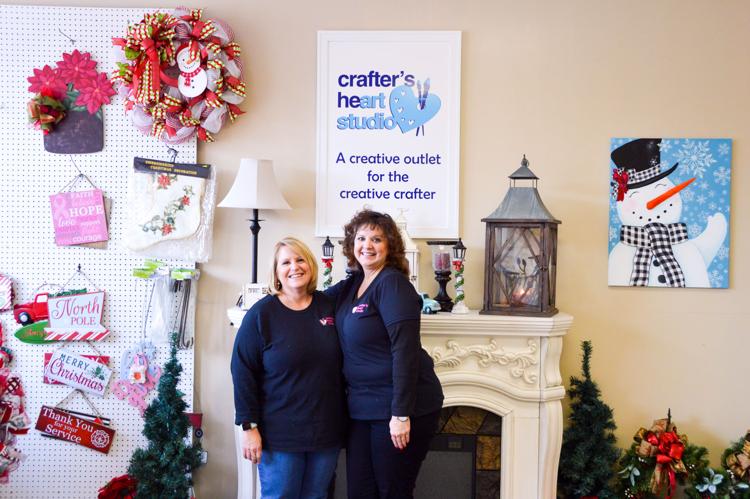 Though the studio has taken off in the Robbins area, the journey that led to its opening wasn't always easy.
Beal made the decision to open up an art studio after she lost her daughter, Caroline, unexpectedly last March. A talented artist who graduated from North Moore High School, Caroline's portrait hangs proudly in her mom's new business.
"Caroline is the 'heart' of Crafter's Heart," Beal said.
Crafter's Heart Studio was originally set to open in Bonlee, North Carolina, but Beal ran into a few roadblocks with the town. She discovered the vacant storefront on South Middleton Street in Robbins while stopping for a bite to eat and made the decision that Crafter's Heart Studio belonged there.
From the moment she inquired about the space's rent, Beal said she began to receive an overwhelming amount of support from the town.
"Not only are the people here sweet, but the community and the business leaders are phenomenal," Beal said.
A retired middle school art teacher, Hipp instructs most of the classes at Crafter's Heart. She commutes from her home in the northern part of Guilford County, and has played an instrumental role in her cousin's business. In addition to teaching classes at Crafter's Heart, Hipp makes wreaths, signs and other handmade decor that's sold at the studio.
Both Beal and Hipp said they're pleased that people from a variety of areas are traveling to Robbins to take a class at Crafter's Heart Studio. In addition to locals, the duo have met people from all over Moore County, Randolph County and even Guilford County.
"We just wanted people to just have something to escape the world," Hipp said. "And art is therapeutic. We're excited to give people something fun and safe to do."
Following the holiday season, Beal and Hipp said they hope to fill their calendar with more classes. They're considering offering classes on barn quilt making and crocheting.
"After our first class, everyone was quiet at first, but when they left, I heard them say 'that was so relaxing.'" And that's what we want," Beal said. "We want people to feel good."