It's not your typical horse farm. Spread across 80 acres adjacent to the historic Walthour-Moss Foundation in Southern Pines, the N.C. State Equine Health Center (EHC) is a temporary home for foreign-born horses.
Each year, 10 to 25 horses undergo strict quarantine here for up to 40 days while being tested for contagious equine metritis, or CEM, a highly contagious sexually transmitted infection.
CEM does not occur in the United States and the idea is to keep it that way.
The U.S. Department of Agriculture estimates some 2,000 horses enter the United States each year from overseas, where CEM is primarily observed. Federal law, therefore, requires a quarantine period and rigorous testing for all breeding age mares and stallions that are imported into the country.
Located on U.S. 1, it is the only certified CEM quarantine facility in North Carolina and one of only 22 such facilities in the country. It is also one of just two quarantine locations run by a college of veterinary medicine.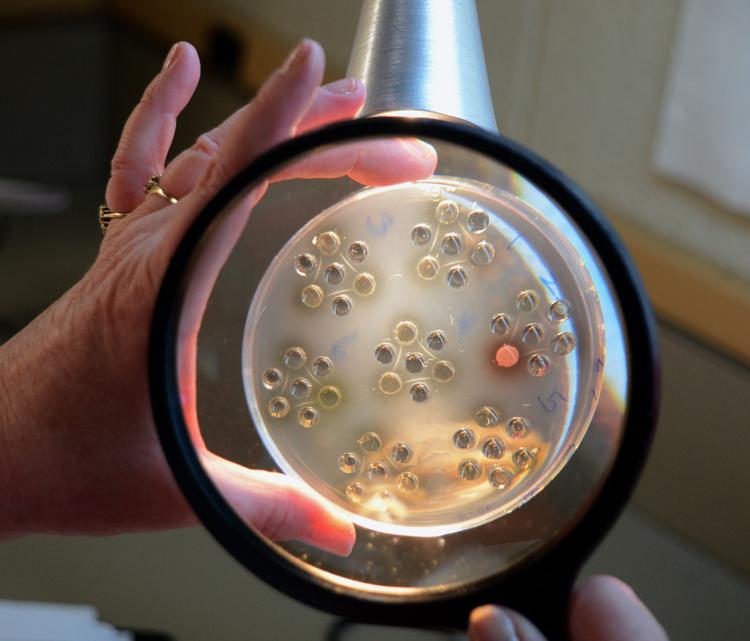 "North Carolina has the fifth largest horse population in the U.S.," said Dr. Scott Bailey, N.C. State veterinarian and associate professor of theriogenology, "and the second largest population of any state that doesn't have Thoroughbred racing."
These facilities are a vital first line of defense to protect "native" or domestic horses from the disease.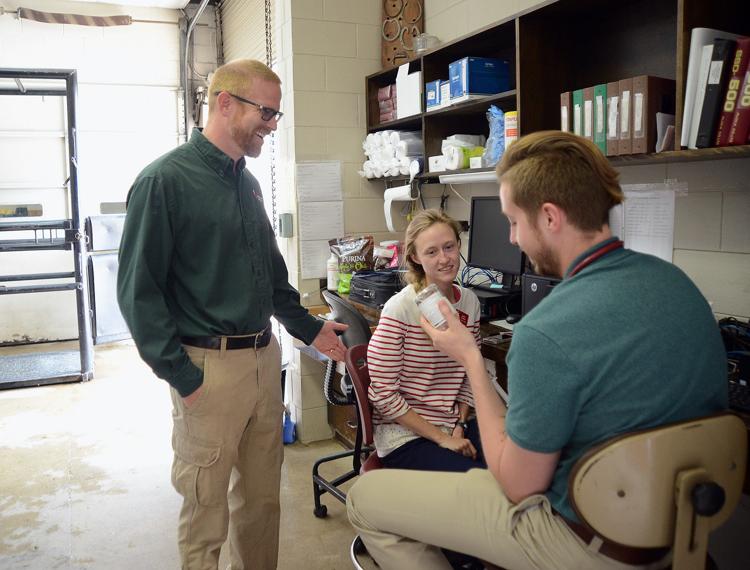 In May 2018, N.C State broke ground on the new Reedy Creek Equine Farm. Located minutes from the College of Veterinary Medicine campus, once finished it will house the relocated equine theriogenology facilities from the Southern Pines satellite campus.
In turn, the Southern Pines property will continue to be used for research, as a field laboratory, and an expanded CEM program. Currently limited to five stalls, Facilities Manager Mona Gardella said when Reedy Creek opens later this year, three additional stalls will become available for CEM quarantine.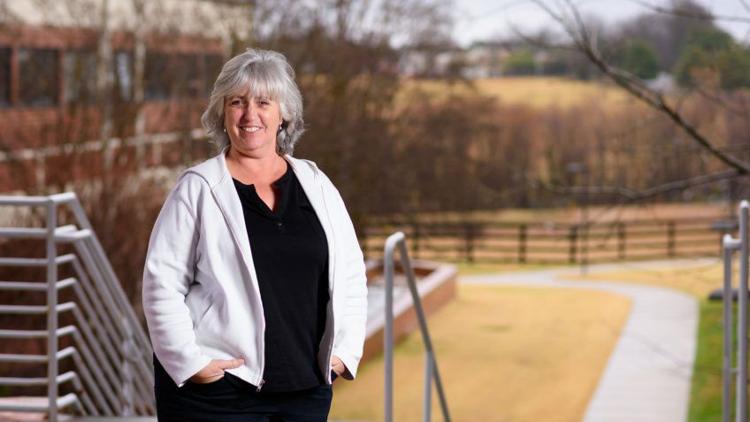 Each quarantined horse is provided with its own heated stall, access to an outside paddock and is kept separate from other animals. And the stay doesn't come cheap: a 40-day quarantine for a stallion runs $6,446 per stallion, and a 21-day quarantine for a mare runs $2,826.
Southern Pines' equestrian heritage dates back more than a century. The temperate winter climate attracted Northern riders and the sandy soil offered quick-drying sure footing for their horses.
The N.C. State satellite facility was initially organized in 1958 by the North Carolina Veterinary Medical Association as the North Carolina Veterinary Research Foundation on land obtained by Mr. and Mrs. W.O. Moss. The intent was to create an emergency center for local horse needs.
Later when the College of Veterinary Medicine was established, the Veterinary Equine Research Center (VERC) was turned over to the university and renamed the EHC in 2006.
Today is sits alongside the 4,000-acre Walthour-Moss Foundation.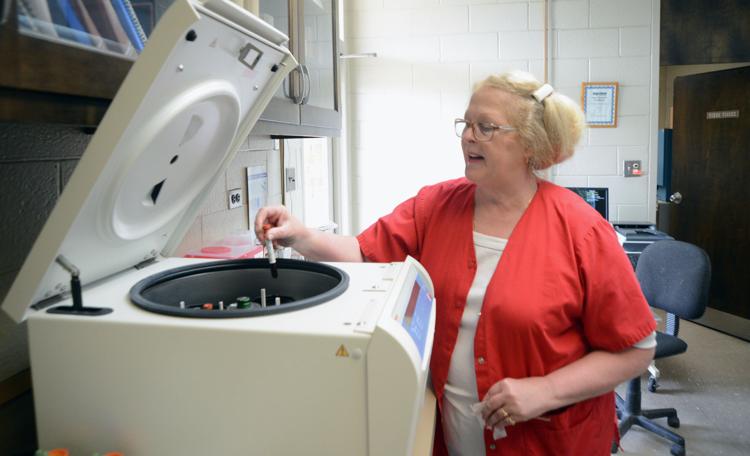 Since 1980, the EHC has operated a clinical diagnostic laboratory that serves local veterinarians. Approximately 93 different tests can be performed in-house and via referral to other labs.
Last year alone, the laboratory performed close to 10,000 tests for Equine Infectious Anemia (EIA or Coggins), in addition to blood chemistries and counts, said longtime veterinary medical technician Pamela Wilser.
"The on-site laboratory is a really valuable resource for veterinarians in the area," said Bailey, "and gives them access to research at the vet school."
The Southern Pines facility also operates an equine reproduction clinic focused on breeding, diagnosis and management of high risk pregnancies for mares, and veterinary student training in semen collection and freezing, and evaluating animals for infertility.
"There are different reasons why horses may not be successful at reproduction for themselves," Bailey said.
For stallions, artificial insemination is a way to "expand the geography" for horses that are not located near each other, or may no longer be alive.
For mares, Bailey said they are typically high level performance horses in "active work." Because there is a very narrow window in the training schedule, they will be inseminated and the embryo removed a few days later to be implanted in a non-working mare.
"Owners will capitalize when they are young and at the peak of their career," he added.
Most of the animals he works with are eventing, dressage and show jumping horses, though he occasionally sees a few polo horses.
An Army brat who grew up mostly in Germany, Bailey earned his DVM from Kansas State University and said he fell in love with breeding in horses during his veterinary school internship in Saratoga Springs.
N.C. State veterinary school students have the option to attend a two-week rotation at the Southern Pines EHC.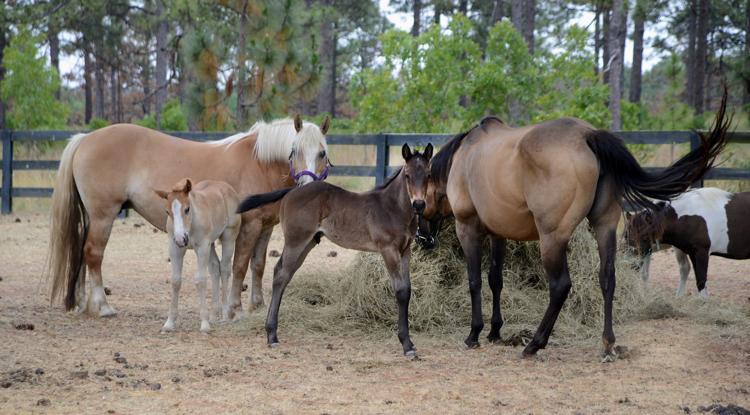 Bailey said from a teaching standpoint, the facility's strength is the animals on-site that are owned by the university. This includes Okie Doodle Doo, a gentle stallion used by students practicing semen collection techniques, and 16 ponies that are used to study infectious disease in pregnancy.
"My research focuses on improving outcomes," Bailey said, of his work studying infectious disease, diseases of pregnancy in the mare and causes of perinatal death in foals.
In addition to clinical and research pursuits, Bailey also created a seminar series for veterinarians who are interested in pursuing board certification with the American College of Theriogenology.