Many dream of spending their vacation hours or golden years in the Home of American Golf — but for those who have pain when swinging a club, time spent near Moore County's dozens of courses can quickly become bittersweet. That's why Dr. Mac McLaurin is on a mission to help golfers enjoy the game for longer via his Pinehurst practice, Restore Physiotherapy.
"Initially, my goal was mainly to mainly work with people who wanted to swing fast and hit the ball 320 yards," says Mac, a longtime golfer and the only physical therapist in Moore County to be certified by the Titleist Performance Institute. But quickly, Mac found that only focusing on improving clients ability to hit the ball further was less important than helping them play without pain.
"Hitting the ball further? Sure, that's definitely something I can help with," he says. "But I'd really like to help my clients be able to enjoy the game for as long as possible — into their 80s or 90s, or however long they want to play."
Gary Mullis was one such client. Many doctor's visits and two rounds of steroids in his shoulder had only left him feeling frustrated with numbness that radiated into his index finger and thumb and prevented him from gripping and swinging a golf club.
"The pain is immobilizing," Gary says. "It's not only physical but it affects your mental wellbeing and outlook on life. If you're in pain, you don't want to do things you love like golf, or even day-to-day things like making the bed. Inactivity leads to lethargy and weight gain and so many other things. You start getting the blues, and it's not a good place to be."
During Gary's first visit to Restore Physiotherapy, Mac quickly diagnosed the source of the problem — not Gary's shoulder, but his neck. Subsequent treatments helped Gary reclaim his thoracic mobility, manage his pain, and return to the game he loves.
Driven By Results
The results-driven approach is one of the founding principles behind Restore Physiotherapy, which Mac opened after more than five years spent working with hundreds of patients in the constraints of insurance-driven, fast-paced clinics. At the appointment-only Restore Physiotherapy, clients have a treatment room to themselves and the full attention of Mac, the sole practitioner.
"I've been to physical therapy before and I'm a believer in it, as opposed to other means of solutions to the problem," Gary says. "But here, the one thing that struck me was the one-on-one philosophy.
"There's no other patients waiting, there's no phone ringing, there's no office staff interrupting the appointment. It's uninterrupted attention and time focused on my problems, which is rare," he laughs.
Gary's treatment plan started off with several "intense" visits and prescribed at-home stretches and exercises, allowing him to achieve significant progress in a short amount of time and return to playing golf. A month after his treatment course ended, he came back to see Mac for a "tune-up," — a type of visit that would be difficult to manage in an in-network physical therapy clinic.
"I feel that people are hesitant to go back to physical therapy because they feel like if they go in they'll have to go back for another six weeks," Mac says. "Being out-of-network gives the patient and provider control of their treatment plan."
That plan, for those who want to improve their golf game or decrease pain while playing, can include everything from small tweaks in your exercise approach to a video analysis of your swing and prescribed exercises to improve speed and efficiency. He also likes to work collaboratively with a swing coach if the client has one they are working with.
How it Works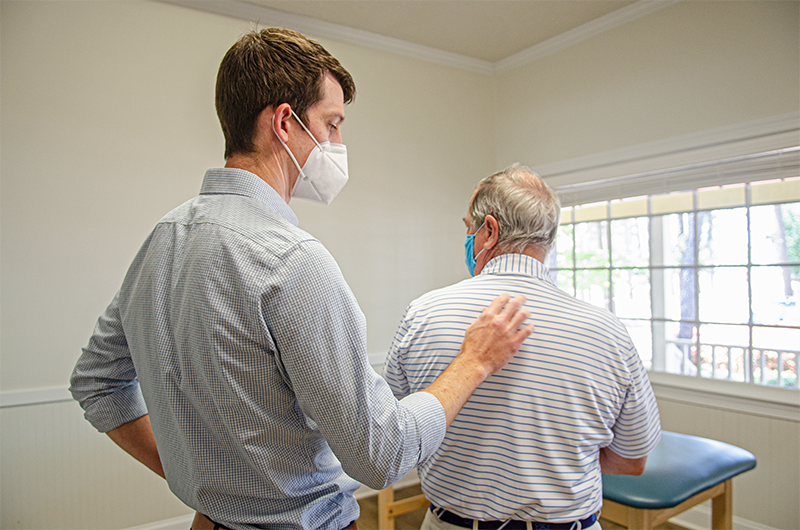 Whether you want to improve your swing or just improve your day-to-day life, it's important to seek treatment when you first feel discomfort. Chances of complete recovery are higher the closer they are to the time of injury. If you're experiencing pain, schedule a free discovery visit at Restore Physiotherapy. Mac will spend 15-20 minutes determining if physical therapy is right for you — no commitment necessary.
Restore Physiotherapy operates outside of the traditional insurance model, though payment for some treatments may be reimbursed by insurance providers. Clients can pay a flat fee for each visit or purchase a package at a discounted rate. Unlike larger clinics, which offer limited options, Mac can work with you to find the right fit.
Restore Physiotherapy is located at 45 Dowd Circle in Pinehurst. For more on the clinic or treatments offered, visit RestorePTNC.com or call 910-621-5003.