Just started a new workout program? Practicing better posture? Spend all weekend on the course or with the grandkids? Chances are, you felt it the next day — and might have even considered calling a doctor.
Occasional discomfort in your back and neck is a part of life, and even a sign that you're doing something right, says anesthesiologist Lauren Sylvester, the newest provider at FirstHealth Back & Neck Pain. Introducing a new form of exercise or increasing your activity level, both things that are ultimately good for your overall health, can lead to a painful adjustment period.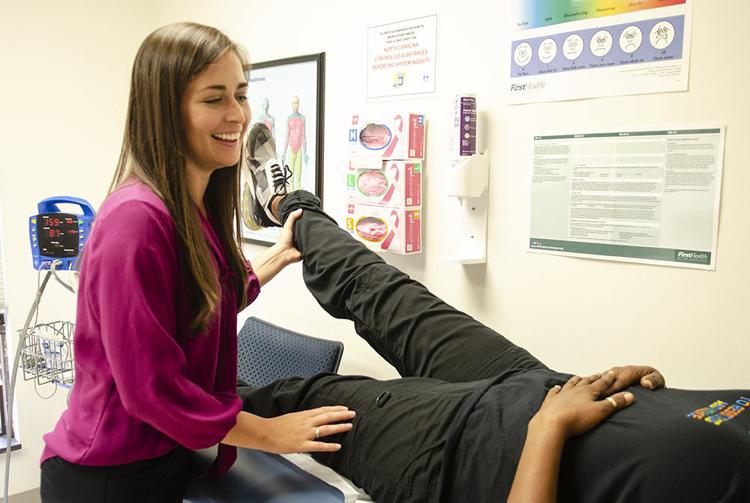 However, even minor discomfort that lasts longer than three months is cause to see a doctor. And anyone experiencing pain that radiates from the back down or from the neck up should book an appointment immediately.
According to the Cleveland Clinic, back pain is one of the most frequent medical complaints among otherwise healthy adults — and the second-leading cause of lost productivity, after the common cold.
When it comes to long-term back and neck pain, many adults tend to "tough it out," said Dr. Sylvester, who came to FirstHealth in July after completing an interventional pain fellowship at the University of North Carolina. Initially interested in pediatrics, Dr. Sylvester was drawn to the care of chronic pain after realizing how a holistic approach could change patient's lives.
Some may consider pain just another symptom of getting older, while others might be wary of being prescribed potentially habit-forming pain medications. These are both stigmas that Dr. Sylvester aims to break.
"We have a broad scope of treatment that may involve physical therapy, medication, or a combination of both. We have found, particularly, that opioids are not helpful for chronic pain; and for arthritis, we typically find pain can be relieved through joint injection therapy, which targets the pain area directly. There are many ways to make chronic pain manageable."
By joining FirstHealth Back & Neck Pain, Dr. Sylvester is part of a community of other physicians, physician assistants, and a nurse practitioner enthusiastic about helping patients maintain quality of life. Part of the broad FirstHealth network, pain management offices are located in Pinehurst, Sanford, Raeford, Troy and Asheboro.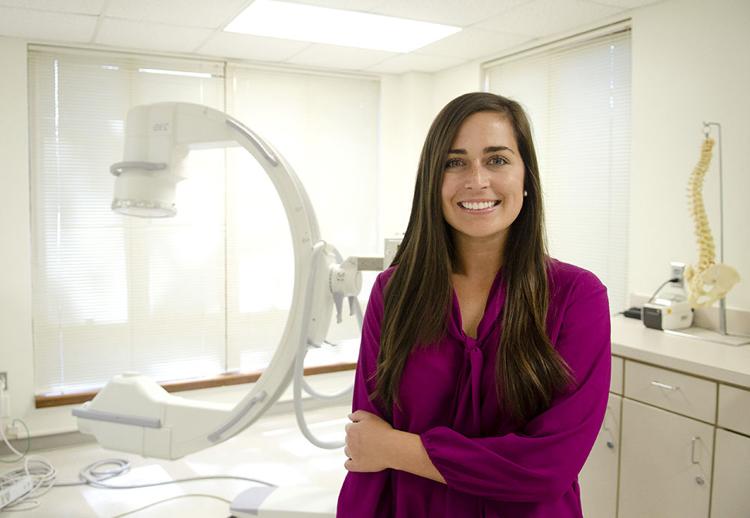 "We are gratified that Dr. Sylvester chose to join our practice at FirstHealth," said Brian Thwaites, M.D., founder of FirstHealth Back & Neck Pain in 1996. "She brings a thoughtful, holistic perspective to treatment and long-term management of chronic pain."
Though not all causes of pain are avoidable, Dr. Sylvester emphasizes the importance of working to maintain the muscles that hold your spine in the proper position, through a combination of posture and exercise. Spending lots of time sitting at a computer or performing repetitive motions with little or no variation can lead to muscle tension, and an increased chance of pain. 
"I always advise my patients to be as active as possible (or as active as their diagnosis allows) for the best physical and mental health," she said. "Specifically, pilates, yoga, anything that really elongates or lengthens the spine can be very therapeutic."
A fitness enthusiast herself, Dr. Sylvester looks forward to exploring all the recreation the Sandhills has to offer — and immersing herself in the place she now calls home. "In 30 years I would like to look back at my career, and say that I truly helped make a difference in improving the lives of people in my community."
For more information about FirstHealth Neck & Back Pain, call 910-715-1794 or visit firsthealth.org/pain