Parts of Moore County could see as many as six inches of snow in connection with a winter storm that is expected to reach central North Carolina on Sunday, according to the latest forecast from the National Weather Service in Raleigh.
The area is under a Winter Storm Warning from 1 a.m. Sunday until 7 p.m. Monday. The storm is expected to bring a mixture of snow, sleet and freezing rain to the Sandhills, with northern Moore County projected to receive the largest amount of wintry precipitation.
In an interview with The Pilot earlier this week, Ryan Ellis, a meteorologist for the National Weather Service, said residents should "get ready for potential power outages." Duke Energy, the county's largest electric provider, was making preparations for the storm on Thursday.
"We're checking our equipment, supplies and inventories to makes sure we have the adequate materials to prepare for any repairs and to restore power outages that might result from the storm," said Candice Knezevic, a spokesperson for the company. "We are ready to respond as quickly and safely as possible."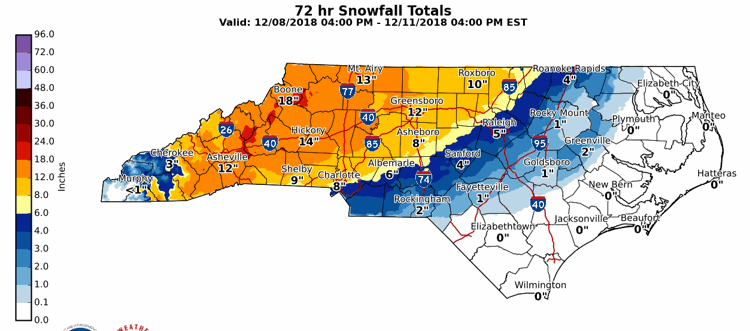 Reagan Parsons, town manager for Southern Pines, said Friday that town personnel were prepared to address storm-related issues.
"We've got all of our crews on standby for the weekend," Parsons said. "We're getting ready for the potential worst and hoping that it doesn't happen."
One thing the town won't be doing is applying brine to local roads. According to Parsons, the anti-icing solution would have been washed away by the spate of showers that hit Southern Pines on Saturday.
"We do not currently have plans to brine due to the current weather forecast showing significant rainfall prior to any snow or ice event for the area," Parsons said. "Under these circumstances the pre-application of brine loses its effectiveness."
Moore County Schools will be closed for students Monday, which is It an optional teacher workday for school staff. The previously scheduled Board of Education meeting will move forward as planned. 
Three measurable snowfalls have been recorded in the Sandhills since January, including a surprisingly potent winter storm that caused havoc on local roads during the first week of the year.