Call it Mango's great adventure. For almost four months, the big orange tabby cat was on the lam, traveling more than 11 miles from Aberdeen to Whispering Pines before he was found and subsequently reunited with his out-of-state owners last weekend.
"This was like the best late Christmas gift I could have ever gotten," said Barbara Shepherd of Animal Advocates of Moore County, who helped coordinate Mango's rescue effort.
The feline's tale began on Aug. 31, when owners Melissa and Tim Crete stopped for gas at the fuel station on N.C. 211, near the Kolcraft furniture plant. Mango was lounging in the family's RV when a Carolina Air Care helicopter took off from the nearby Aberdeen Fire Station 2 facility, spooking him.
For hours the Cretes searched for the 7-year old cat they had raised since he was a kitten.
"He usually will come to us but the helicopter had scared him. We would see him but couldn't grab him. The next day we came back and tried again for a few hours, but then had to leave for home in Rhode Island," Melissa said.
The Cretes filed a report with The Pilot's free lost and found pet service. Then Shepherd, who spearheads Animal Advocates' rescue and adoption program, jumped in to help by placing humane traps in the area for more than a month.
"Barb asked us for clothing to put in the traps to entice him, but Mango is a smart cat. We didn't think he'd fall for it," Melissa said.
And she was right. Months passed with no sign of the big orange fellow.
"I lost a lot of sleep over that boy and I can't imagine what his owners went through," said Shepherd.
Mango's unlikely reunion started out as a case of mistaken gender identity. Right before Christmas, Jada Fulkerson noticed what she thought was a pregnant female cat in her yard in Whispering Pines.
"The cat had been hanging around and you could tell it was an indoor cat, somebody's pet," Fulkerson said.
She checked around with neighbors and also filed a report with The Pilot's lost and found pet program hoping to reunite the cat with his family.
When no owner stepped forward, Shepherd offered to take the suspected pregnant cat to Susan Rogers, who provides foster care to mother cats and kittens for Animal Advocates.
"When I picked him up, I realized this was not a female at all. He was a big guy and had probably been neutered very young. Sometimes it can be hard to tell," Shepherd said, noting during her exam she also discovered the cat had a leg injury that had healed over but was still sore.
Meanwhile, the Cretes continued to hold out hope they would find their cat.
"Barb had told us not to give up," Melissa said.
While vacationing in Florida over the holidays, Tim checked The Pilot's pet page online. When he saw the orange cat found in Whispering Pines was in fact a male, he called Fulkerson.
She explained the cat was being fostered by Animal Advocates and provided him with Shepherd's contact information, who in turn reached out to Rogers.
Over the course of a frantic few hours last Saturday, photographs were swapped back and forth.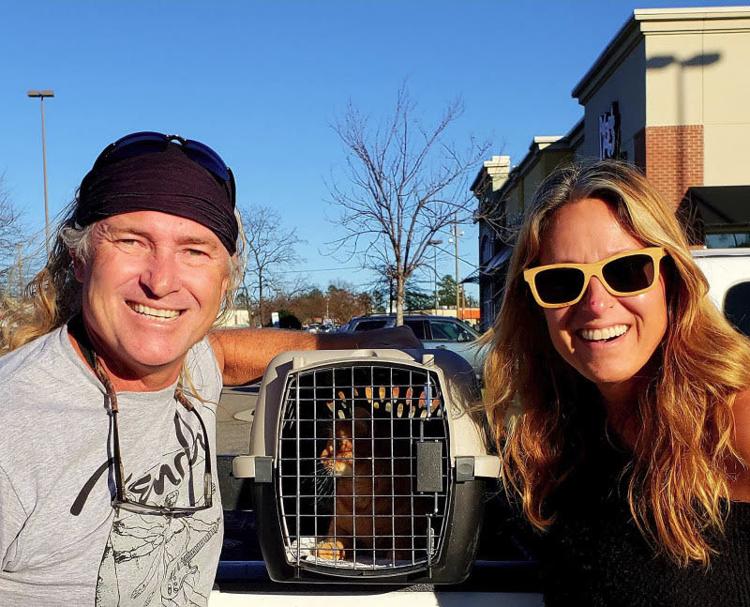 "We looked at every single marking on the cat and compared photos. Tim said he knew it was him," Shepherd said.
Remarkably, Mango was found less than one mile from the campground where the family had stayed right before he was lost.
"This is one smart cat. It did not surprise me one bit where he was found because he was headed in the right direction home, north," Shepherd said. "This was the greatest rescue and return for us for the year! All the odds were against poor Mango, but he made it."
The Cretes jumped in their car the very next day and started driving to Moore County. On Sunday, Jan. 6, they were happily reunited with Mango.
"It was a miracle that we found him. We are so grateful to Barb, she is an angel, and to all of the people who helped make this possible," said Melissa.
The Cretes said he is getting acclimated and beginning to act more like himself.
"He was a little skittish at first, but within 15 minutes of being back with us, he started purring and purring. That first night he didn't sleep a wink," Melissa said. "This is such a blessing. What a great way to start the New Year!"
Pat Bryan, who has volunteered with The Pilot's lost and found pet service since 2013, said happy endings like this one make all the long hours worthwhile.
"I just love this story. It is incredible," Bryan said.
She recommends if you find an animal or lose a pet, file a report as soon as possible. The Pilot's lost and found pet program is a free community service.
As information and photographs are received, Bryan and a small team of volunteers redistributes the reports on social media and by email to animal shelters and nonprofit groups, veterinary hospitals, and other law enforcement agencies throughout the area.
"You have to get the information out there quickly for the best results," said Bryan.
To report a lost or found animal, visit www.thepilot.com and click the 'Pets' tab.