The county expects to begin construction in February on a splash pad at Hillcrest Park in Carthage with hopes of completing it in mid-June.
Commissioners voted in early November to award a $282,000 contract to a Raleigh firm to build the splash pad, which will be similar to the one in Rassie Wicker Park in Pinehurst,
"It will be very enticing," county Capital Projects Manager Rich Smith told the commissioners in a progress report during their meeting Tuesday morning. "This is very exciting."
The 7,000-square-foot splash pad is part of a $5.29 million project to build a recreation center at the park, which is off N.C. 22 near the intersection with U.S. 15-501.
Commissioners got their first look at the proposed design for the center back in September.
"We are full steam ahead on the site plan," Smith told the board.
He said the architects working on floor plans and finalizing construction drawings, which are about 90 percent complete. The county hopes to seek construction bids in mid-February, he said in a brief interview after the meeting ended.
Smith said a number of county officials are working on the project along with Parks and Recreation Advisory Committee and its private foundation.
"It has been quite a group effort," he said.
Construction is expected to begin later this spring, which will take about 14 months to complete, Smith said.
The 26,500-square-foot facility will have two gyms with full-size basketball courts that can be used as four volleyball courts, a multipurpose room that can seat 100 people for classes and training, restrooms and a concession area, as well as offices for the Parks and Recreation staff. The multipurpose room can also be rented for meetings and other private events.
The facility can be expanded in the future to add a third gym.
As a part of the presentation, Smith showed the commissioners a nearly four-minute video that provides a virtual tour of recreation center and entire park.
Smith said that will be used by the county Parks and Recreation Foundation in its fundraising efforts, which are set to begin soon.
"Very interesting," Board Chairman Frank Quis said, "It will be very helpful to have a video presentation for that."
Also during the meeting, commissioners received good financial news on its annual audit.
The had a $5.9 million budget surplus for the fiscal year that ended June 30, according to the annual report.
Overall revenues totaled $95.5 million while expenses were $89.59 million, the report showed.
"We had a great year," County Manager Wayne Vest said.
Vest said the county's strong financial audit report should "bode well" as the two major bond rating agencies make their determinations for next round of bond sales for the Southern Pines Elementary School next month.
"Certainly this will be beneficial," Quis said of the latest audit report.
Representatives of Moody's will visit the county later this month. The other major firm, Standard and Poors, increased the county's rating to "AA Plus" from "AA" on its existing general obligation bonds last August. It also assigned an "AA Plus" rating for new bonds that were sold to finance the Aberdeen Elementary School on N.C. 5, which is now under construction.
Voters overwhelmingly approved a $103 million bond issue last May to finance new elementary schools for Aberdeen, Southern Pines and Pinehurst.
The audit report showed that 42 percent of the county's budget funds education — both public schools and Sandhills Community College — more than any other area. That does not include debt on voter-approved bonds and other money the county borrows for schools.
For the most recent fiscal year, the county spent $37.1 million on education, a $1.87 million increase over the the year before.
The county spent more than $13.6 million each on public safety and human services, which accounts for another 30 percent of expenditures — 15 percent on each.
The county's overall reserves, called a fund balance increased by $5.4 million to $34.49 million as of June 30. Of that total, $26.8 million is available to be spent.
It equals 30 percent of the county's total expenditures, far exceeding the minimum 8 percent recommended by the state for local governments to maintain in reserve as well as the county's own policy of 17 percent.
Ko Tang Cha-Moses with Martin Starnes and Associates, the county's auditing firm, noted that the county's fund balance "has been climbing steadily" the past several years.
At the start of the meeting, two longtime firefighter were honored for their combined 113 years of "dedicated service and institutional knowledge."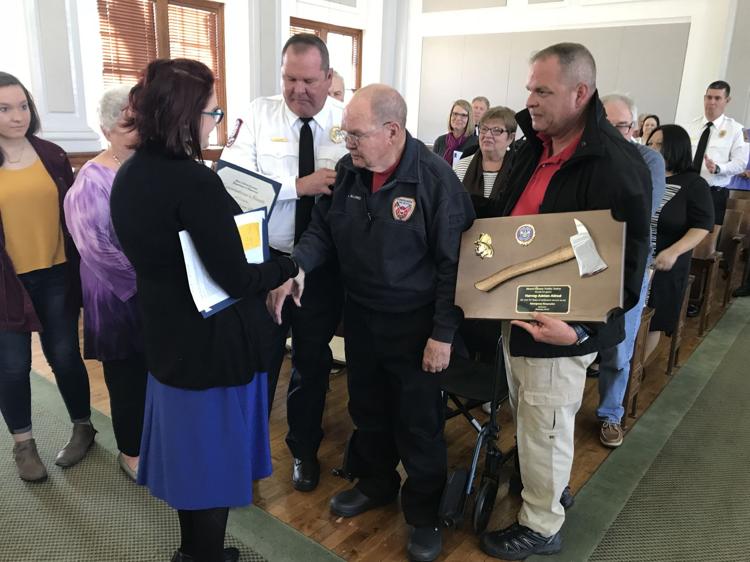 Alana Denton, special advisor for governmental services for the Office of State Fire Marshal in the Department of Insurance, presented the Commissioner's Award to Harvey Allred and and Joseph Rorie Sr.
She said the award recognizes firefighters for their "sacrifice and service." She also acknowledges their families for the "sacrifice over the span of their career careers."
"We recognize that that in fire service, the fire personnel are not doing this alone," she said. "There's a lot of late nights and weekends. We want to say thank you to the families."
County Public Safety Director Bryan Phillips also presented the two men with plaques from the county honoring them for their service.
Phillips said Allred served for 57 years. He was a charter member of the old Crestline Fire Department in Aberdeen in 1962 and was chief for 25 years.
He went to work for their Aberdeen Fire Department in 2008 as safety officer. Phillips joked that he really took the Aberdeen job "to look after" his son, Richard, who was then deputy chief.
Phillips said Allred "has been a mentor to many young members" throughout his career.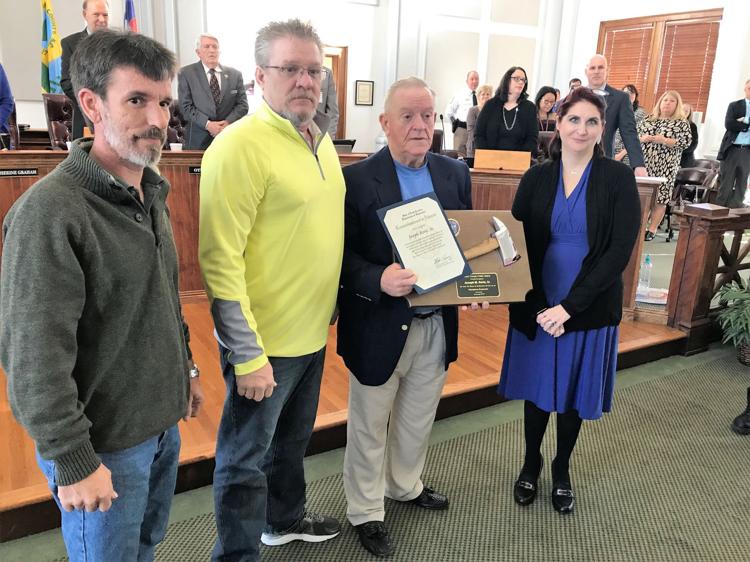 Rorie served for 56 years, starting as a volunteer in 1963 and then becoming full time with Southern Pines in 1967 until 1981.
He joined the former Crestline Fire Department for three years before volunteering with the Aberdeen Fire Department, where he retired. He also served for six months as the fire chief in Carthage.
In opening the meeting, Quis, who became chairman last month, noted that this was not only the first one of the new year, but also the first one to be held in the morning.
"We are all looking forward to getting off to a good start," Quis said of the new year.
Under a change in their schedule for this year, meetings on the first Tuesday of the month will now begin at 10:30 a.m. (The board moved the first meeting in January to the second Tuesday since the first one fell on New Year's Day.) The meeting on the third Tuesday will continue to be held at 5:30 p.m.
All public hearings and major items of business will be taken up during meetings on the third Tuesday, commissioners agreed last October when they approved the schedule change.
Quis said the morning meeting on the first Tuesday gives staff members and other members of the community more "flexibility" in scheduling presentations so they can be done during business hours.
"We hope it works well for the public," he said.
The commissioners agreed to evaluate the change at the end of the year before deciding whether to continue with this schedule.